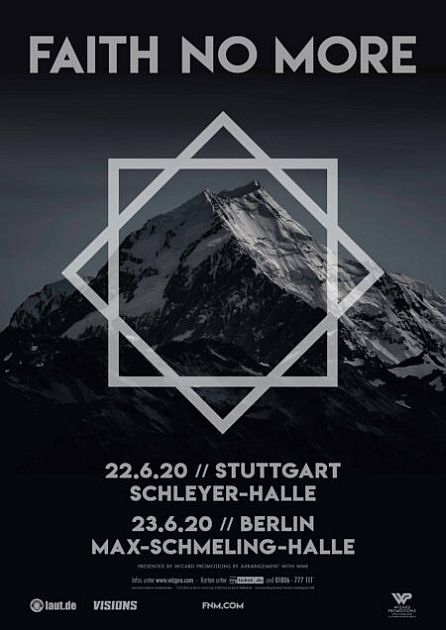 The legendary Rock band comes back to Germany in June 2021, arena concerts in Stuttgart and Berlin confirmed. Ticket pre-sale starts on Wednesday, January 29, 2020!
Attention: Dur to the Corona pandemic, the concerts are postponed from June 2020 to June 2021! Tickets remain valid!
The last FAITH NO MORE concerts in Germany in June 2015 were played to frame the release of the 2015 album 'Sol Invictus' (Ipecac/ Reclamation Recordings). The album went from zero to hundred and reached the top positions of international album charts: #2 in Australia, #4 in Germany, and #6 in the U.S. and UK. The Rolling Stone Magazine described the album with its ten songs as "triumphant", the New York called it "a taut, textured, sometimes terrifying reminder of everything that made FAITH NO MORE great in the first place", and the Los Angeles Times said "There is a tradition with Faith No More to resist all expectations, and they did it again with Sol Invictus".
Following the announcement of first live dates for headliner shows in the UK and of several festival appearances outside Germany in 2020, the founding fathers of Crossover and pioneers of modern Metal now return to Germany. FAITH NO MORE perform two shows of their European tour on German soil, one at the Schleyer-Halle in Stuttgart (June 21, 2021), and the second one at the Max-Schmeling-Halle in Berlin (June 23, 2021).
On Wednesday, January 29, 2020 at 11:00 a.m., ticket providers MyTicket and CTS
Eventim
start their online ticket presale. General ticket sale starts on January 31, 2020 at 10:00 a.m. Get your tickets via www.myticket.de or by phone at +49 (0) 1806 - 777 111 (20 cents/call, mobile max. 60 cents/call) and at all known ticket shops.
FAITH NO MORE are Mike Bordin (drums), Roddy Bottum (keyboards), Bill Gould (bass), Jon Hudson (guitar), and Mike Patton (vocals). The platinum-awarded band formed in San Francisco rightly is one of the most influential Rock bands of their generation. Faith No More released seven studio albums so far: 'We Care A Lot' (1985), 'The Real Thing' (1989), 'Angel Dust' (1992), 'King For A Day… Fool For A Lifetime' (1995), 'Album Of The Year' (1997), and 'Sol Invictus' (2015). Further information here: www.fnm.com / www.facebook.com/faithnomore / www.instagram.com/faithnomore.
More on
Faith No More