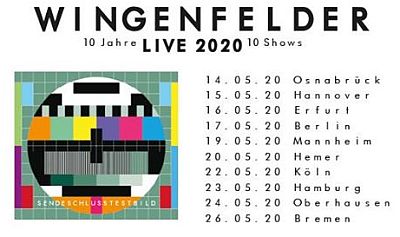 Turbinenhalle 2, Oberhausen, Germany
28th April 2022
Wingenfelder - "Sendeschlusstestbild Live 2021" - 10 Years, 10 Shows Anniversary Tour

Attention: Due to the Corona pandemic, this event is postponed from May 2020 to March 2021 and further to November 2021 and finally to April 2022. Tickets remain valid!
After the great success of "Sieben Himmel hoch" and countless enthralling live shows of the two FURY brothers, WINGENFELDER celebrate their 10th band anniversary. The anniversary tour starts in the middle of May 2020. The chosen theme is a logic consequence: "10 Jahre WINGENFELDER - 10 Live shows" ("10 years WINGENFELDER - 10 live shows"). At the same time, the album 'Sendeschlusstestbild' containing 10 studio and 10 live tracks is released.
WINGENFELDER are brothers Kai and Thorsten Wingenfelder, heads of the band FURY IN THE SLAUGTHERHOUSE. In 2010, their band project WINGENFELDER was born, and since then, the two inspire the fans with their very own style. There is great anticipation for that jubilee, and Kai Wingenfelder sums it up like this: "Wow, 10 years done! Everything new, everything in German language, four studio albums, one live acoustic CD, and now number 5: 'Sendeschlusstestbild'. But we are far from over! I think, right now it's more important than ever before to say way you think and feel. This is exactly what we have done with this album. It's a gift that we can do what we do, what we love and what so many people like to listen to. Let's go!"
For Thorsten Wingenfelder it is: "10 years WINGENFELDER, 10 years 'story telling Rock'. More and more people, who choose our songs and stories to make them to the soundtrack of their lives. That let us face that anniversary in a thankful and humble way. With the new album and our anniversary tour we have the feeling that again we are standing at the beginning of a new and exciting development for WINGENFELDER. It will be a celebration!"
For WINGENFELDER, it is out of question, that it was worth all the doubts and long nights full of work, when the fans find themselves in their music, remember beautiful moments, or let off steam. On September 27, 2019, the track 'SendeschlussTestbild' was released as a foretaste of the new album.
Additional Concert Info

Doors: 19:00
Start: 20:00
Tickets: are available for 40.00 euros (plus charges, pre-sale) via
Eventim
Info: http://www.rosenhof-os.de/programm/wingenfelder-10-jahre-jubiläums-tour
More on
Wingenfelder