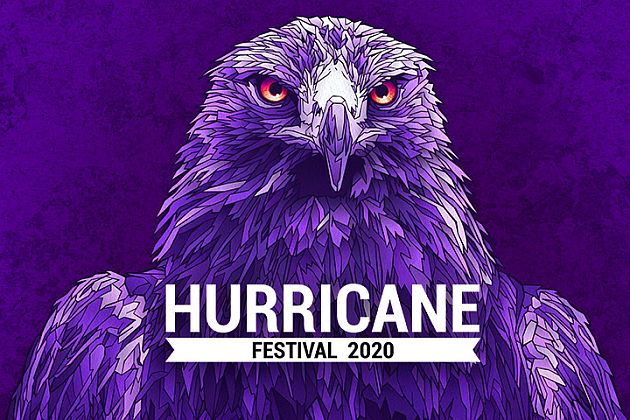 Eichenring, Scheeßel, Germany
19th to 21st June 2020
Hurricane Festival 2020 with Seeed, Martin Garrix, The Killers, Deichkind, Twenty One Pilots, Kings Of Leon, Rise Against and many more

Attention: due to the Corona pandemic, this event is cancelled! A new Edition will take place in 2021 with possibly equal line-up!
The Hurricane takes place at the Eichenring in Scheeßel since 1997. Over the last years, the festival presented internationally successful artists, popular German acts and a large amount of newcomers, of which some are today's headliners. Since 1999, there is the twin festival Southside Festival in the South of Germany, which takes place at the same time and with the same line-up. Every year, more than 130,000 visitors from all over Europe come and visit the Hurricane and the Southside Festival. Such a success also is based on the continuous further development of both the Hurricane and the Southside, e.g. by new and more flexible and comfortable accommodation facilities or innovations regarding supply and gastronomic offers. Both festivals come along with their own radio station, the Beck's Camp FM, that reports live from Scheeßel and Neuhausen ob Eck and provides year-round festival atmosphere as web stream.
Additional Festival Info

Date: June 19 - 21, 2020
Place: Eichenring, Scheeßel
Line-up June 19, 2020: Seeed, Martin Garrix, The Killers, SDP, Dermot Kennedy, The Lumineers, Giant Rooks, LP, Killswitch Engage, Of Monsters And Men, While She Sleeps, Millencolin, The Dead South, Neck Deep, Aurora, Mayday Parade, Kelvyn Colt, Miya Folick, and many more.
Line-up June 20, 2020: Deichkind, Twenty One Pilots, The 1975, Von Wegen Lisbeth, Rin, Mando Diao, Kummer, Jimmy Eat World, Foals, Juju, Tones And I, Kitschkrieg, Antilopen Gang, Bad Religion, Sofi Tukker, Nothing But Thieves, Turbostaat, Wolf Alice, Georgia, JC Stewart, Brutus, Flash Forward, Helgen, and many more.
Line-up June 21, 2020: Kings Of Leon, Rise Against, Bring Me The Horizon, Kontra K, The Hives, Thees Uhlmann & Band, Swiss & Die Andern, Ferdinand And Left Boy, BHZ, Blues Pills, Nura, Mine, Skindred, Lari Luke, Pup, Blond, and many more.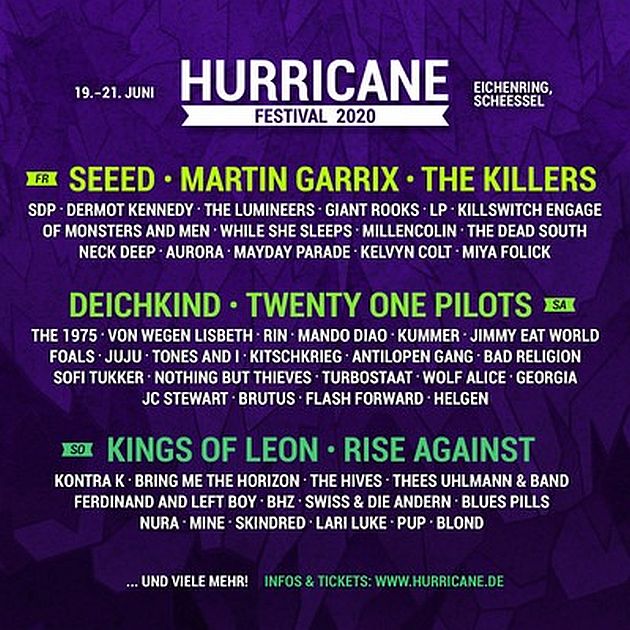 Price: from EUR 202.25
Ticket hotline: +49 (0) 1806 - 853 333
Further information: http://www.hurricane.de
Tickets:
http://bit.ly/hurricanefestival_tickets