Leipzig, Germany
29th May to 1st June 2020
29th Wave Gotik Treffen with Brandenburg, Combichrist, Drangsal, Einstürzende Neubauten, Ikon, Linea Aspera, Pouppée Fabrikk, The Exploding Boy, VNV Nation, Whispering Sons and many more

Attention: due to the Corona pandemic, this event is cancelled!
It seems like we just celebrated 25-years-anniversary of this unique festival, but here we go: the 29th edition is coming closer and next year, we can already celebrate the 30th anniversary. Time just flies! There is no other event that can be compared to the Wave Gotik Treffen. Probably anyone could imagine how this event would turn out black in 1992 when about 2,000 people met in Leipzig to celebrate the Dark Wave and Goth music and lifestyle and get to know others with similar way of life. The Wave Gotik Treffen even survived the chaos year 2000 when the former organizers and the money disappeared, so the bands and staff couldn't be paid, but the visitors and some of the artists stuck to it and made even that very chaotic year something special and probably showed for the first time the real importance of it.
The Wave Gotik Treffen is not just a festival, and so it is not called a festival, but a very special gathering and with its uncountable amount of events and activities it is one of a kind. Though concerts make the main part of it, there are a lot of other events to be discovered: the huge Victorian Picnic that traditionally opens the festival on Friday afternoon with all the visitors who dress-up in breath-taking beautiful historical and creative outfits. There are (almost) no limits and so there are so many details to discover. As there are many different events at the same time all over the historical city of Leipzig there are also almost no "main events". Beside of concerts and meet-ups the program offers wine tastings theatre, classic concerts, author's readings, cinematic performances, creative workshops and much more. A children day-care program makes it even for parents possible to enjoy an industrial concert while their children are taken care of by professionals and can play with other children.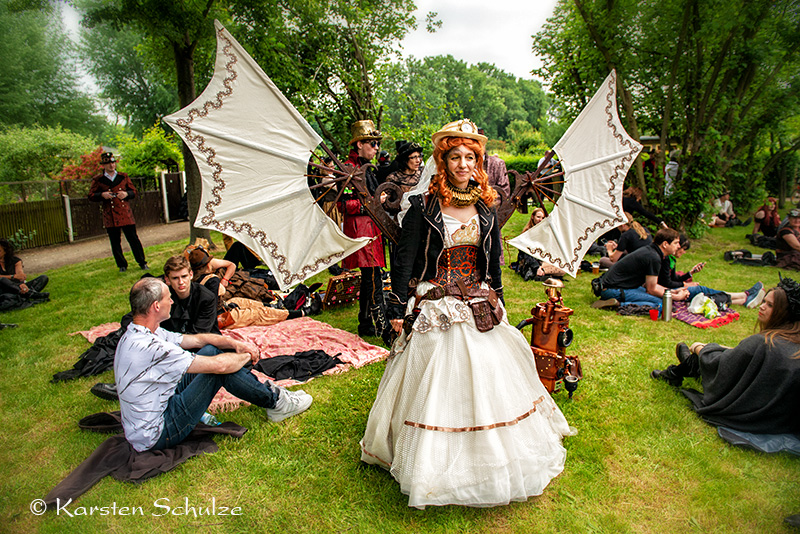 Over 50 venues offer a program that makes it for literally everyone possible to find something to enjoy. Visitors from all over the world of all genders and ages are coming ones a year to Leipzig during Pentecost to celebrate all shades of dark music and lifestyle culture that can be very colourful as well. One of the most special things about Wave Gotik Treffen is probably that it does not just take place in a limited area, but all over the city and so it feels like having entered a fantasy world while even being in the city centre and strolling around.
While for those who would like to stay in a hotel it is recommended to hurry up as some hotels are fully booked months before Pentecost, these who decide to stay at the camping ground get not just the short ways to the main venue AGRA with the biggest concert hall and a shopping hall, but also the AGRA party hall 4.2 is just next to it as well as the Pagan Village (Heidnisches Dorf) and last but not least the full festival atmosphere. For being able to use and enter the camping ground you need to buy the "Obsorge-Ticket" additionally to the festival pass. Also if you want to use the parking ground next to the AGRA an extra parking ticket, so called "Park-Vignette" is needed. For more information check below.
Bands

Currently there are 108 artists confirmed (per 15th March 2020)
13th Chime (GB) - A Split Second (B) - Accessory (D) - Aesthetic Perfection (USA) - Ah Cama-Sotz (B) - Alex Henry Foster (CDN) - Basszilla (F/D) - Belgrad (D) - Blacklist (USA) exclusive festival reunion show - Boytronic (D) - Brandenburg (RUS) - Brutus (B) - By The Spirits (PL) - Cabaret Nocturne (F) - Cesair (NL) - Clan Of Xymox (NL) - Collection D'Arnell-Andrea (F) - Combichrist (N/USA) - Corvus Corax (D) - Culk (A) - Death In Rome (AQ) - Der Blaue Reiter (E) - Devil-M (D) - Diodati (D) - Drangsal (D) - Eden (AUS) - Einstürzende Neubauten (D) - Eisfabrik (D) - Enter Tragedy (D) - Esa (GB) - Fejd (S) - Feuerdorn (D) - Fïx8:Sëd8 (D) - Frustration (F) - Funhouse (S) - Funker Vogt (D) - Garmarna (S) - Girls Under Glass (D) - Haggefugg (D) - Ikon (AUS) exclusive German show - Irdorath (BY) - Irfan (BG) - Jadu (D) - Jihad (USA) - KMFDM (D/USA) - Kollaps (AUS) - Kontrast (D) - Kontrolle (D) - Krayenzeit (D) - Lacrimas Profundere (D) - Lacrimosa (CH) - Laibach (SLO) - Lights Of Euphoria (D) - Linea Aspera (AUS/GB) - Lizette Lizette (S) - Loell Duinn (HR) - Louise Lemón (S) - Lucy Kruger & The Lost Boys (ZA) - Metallspürhunde (CH) - Minuit Machine (F) - MZ.412 (S) - Nachtblut (D) - Noisuf-X (D) - Nosferatu (GB) - Nullvektor (D) - NZ (A) - Of The Wand And The Moon (DK) - Our Survival Depends On Us (A) - Paradox Obscur (GR) - Paralyzzer (ex-Paranoid) (D) - Patty Gurdy's Circle (D) - Peter Bjärgö (S) - Pouppée Fabrikk (S) - Proyecto Mirage (E) - Psyclon Nine (USA) - Regard Extrême (F) - Ritual Howls (USA) - Rue Oberkampf (D) - S.P.O.C.K (S) - Sangre De Muerdago (E) - Schneewittchen (D) - Schöngeist (D) - She Owl (D) - Shireen (NL) - Sigue Sigue Sputnik (GB) - Skold (S) - Soko Friedhof (D) - Stahlmann (D) - Sunset Wings (RUS) - Superikone (D) - Supernova 1006 (RUS) - Syzygyx (USA) - Technophobia (USA) - Terrorfrequenz (D) - The Devil & The Universe (A) - The Exploding Boy (S) - The Names (B) - The Søciety (GB) - Third Realm (USA) - Thyrfing (S) - TR/ST (CDN) - Trobar De Morte (D) - Vive La Fête (B) - VNV Nation (GB/IRL) - VV & The Void (USA) - Waldkauz (D) - Whispering Sons (B) - Xotox (D)
For more information on the confirmed artists, there is a list of their official webpages here: http://www.Wave-Gotik-Treffen.de/english/bands.php. On the WGT website, a newsletter quickly informs you about the latest program updates.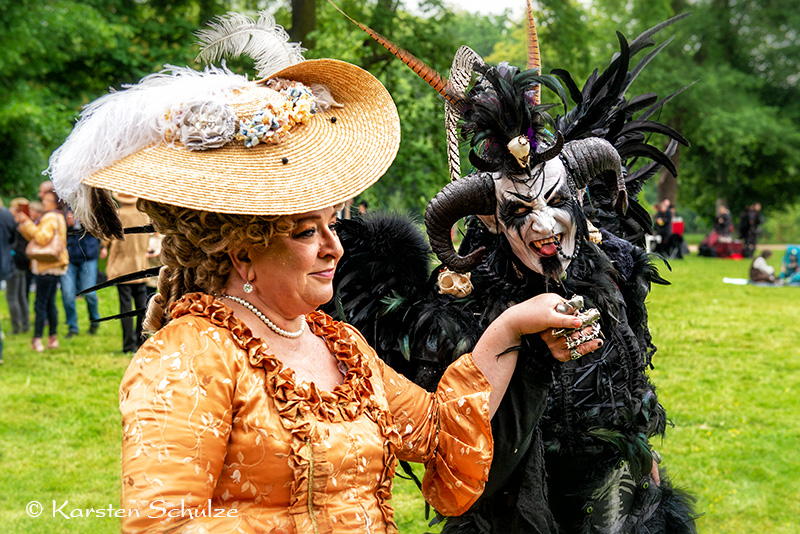 Tickets

Event Ticket

4-days tickets for all events during the 28th Wave Gotik Treffen 2018 are available for 130 EUR on pre-sale (incl. pre-sale charges). The Treffen-Event-Ticket includes the free usage of all public transport within Zone 110 of the MDV (Mitteldeutscher Verkehrverbund), this includes all trams, buses and S-Bahn lines except special lines e.g. sightseeing tours). Detailed information (e.g. period of validity) is to be found on the reverse side of the ticket.
Parking Vignette

In order to use the parking places on the Treffen Area, a parking vignette for 15 EUR (incl. pre-sale charges) for the whole time of the festival is necessary. Important! Without a vignette you're not allowed to park at the area.
Camping

Possible with "Obsorge Ticket", limited up to 9,999 tickets for 25 Euro (includes advance sale charges), contains the following service-package: Camping at the Treffen-Campground (agra-fairground)
Important!: Without an "Obsorge Ticket" the entering and the use of the camping grounds is not possible. The "Obsorge ticket" is only valid in combination with an event ticket and has to be bought for each person separately.
You can order your tickets here:
http://www.wave-gotik-treffen.de/karten.php (Germany)
http://www.wave-gotik-treffen.de/english/karten.php (foreign countries)
Official WGT program book "Pfingstbote"

The book will be available for a price of 15 EUR both at the box offices and the central WGT merchandise stall at the Agra market hall.
Additional festival information

Further information will follow soon and are always available at http://www.Wave-Gotik-Treffen.de/english/
WGT on Facebook: https://www.facebook.com/WaveGotikTreffen/
Event on Facebook: https://www.facebook.com/events/1786240341444048/
Location

Leipzig, eastern Germany (at about 50 venues, spread all over the city); camping site and main venue at the edge of town at the "Agra-Messepark" Markkleeberg; for information on the city you may check http://en.wikipedia.org/wiki/Leipzig or the official city website http://www.leipzig.de/int/en; overview of where events will take place: http://www.Wave-Gotik-Treffen.de/english/info/orte.php.
Music styles

All kinds of dark music: Gothic; EBM; Industrial; Ambient; Neofolk; Synth-pop, Goth-Metal etc.
Expected number of visitors

About 20,000
Info line

0049-341-2120862 / Email: info@Wave Gotik Treffen.de
WGT-app

The useful and free app WGT-Guide can be downloaded in the app stores of Google Play, iTunes or Amazon.
"Low emission zone" in Leipzig

Since March 2011 about 60 percent of the urban area of Leipzig has been declared a "low emission zone" to protect the environment from air pollution. Therefore, within this zone only vehicles which have an official green sticker placed on the front windscreen are allowed. To obtain such a sticker, the vehicle must meet certain standards (i.e. age, type of fuel, diesel particulate filter etc.). This regulation is also valid for foreigners who travel to Leipzig by car. If you cannot show a valid sticker during a traffic check, you will have to pay a fine of 80 euros. The stickers are available for about 5 euros at most car repair shops in Germany or via internet, e.g. the website of TÜV-Nord (6 euros): https://www.tuev-nord.de/en/private/traffic/car-motorcycle-caravan/emissions-sticker/order/. ATTENTION: The agra-area with parking lot and camping site can be reached via A38 / B2 without having to enter the "low emission zone"! That means it is possible for visitors to park their vehicle at the agra-parking lot (you will need a WGT parking ticket in this case, which can also be obtained on location) and reach all other locations by public transport. Please use the following links to find more information: https://www.tuev-nord.de/de/privatkunden/verkehr/auto-motorrad-caravan/umweltplakette / http://www.leipzig.de/umwelt-und-verkehr/luft-und-laerm/umweltzone / www.lowemissionzones.eu