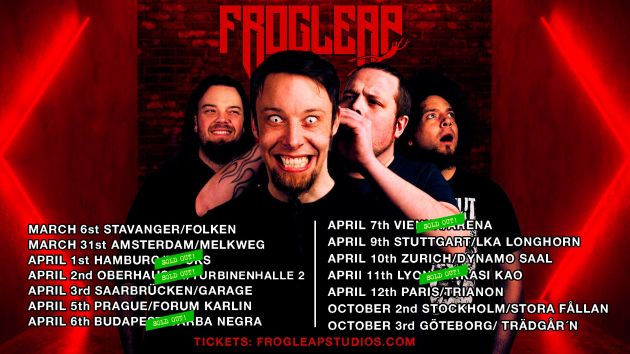 Garage, Saarbrücken, Germany
3rd April 2020
Frog Leap - Live 2020

The cover gods from Norway are on tour in Germany soon! The concerts will take place in April 2020 in Hamburg, Oberhausen, Saarbrücken, and Stuttgart! Whether 'Hello' by ADELE, 'Poker Face' by LADY GAGA, classics like 'Africa' by TOTO or 'Eye Of The Tiger' by SURVIVOR… Leo Moracchioli already gave countless songs a harder sound dress, which can be seen and heard. Not without reason the cover gods of FROG LEAP are more popular than ever!
To make sure that the band is well presented live on stage, Leo of course did not hesitate to bring on stage some of the most brilliant musicians who have managed to capture the spirit of FROG LEAP the way it should be. With Rabea Massaad (DORJE), Erik Torpn and Truls Haugen (CIRCUS MAXIMUS) was therefore made the right choice, as the September 2019 released album 'Live In Europe' proves! So grab the records of your parents and siblings, because now you finally hear a few songs, which the whole family knows. Pop goes Metal! This makes the family outing in April 2020 for sure!
German Tour Dates

01 Apr 2020 – Hamburg, Docks
02 Apr 2020 – Oberhausen, Turbinenhalle 2
03 Apr 2020 – Saarbrücken, Garage
09 Apr 2020 – Stuttgart, LKA Longhorn
26 to 28 Jun 2020 – Ferropolis, With Full Force
Additional Concert Info

Doors: 18:00
Start: 19:00
Tickets: SOLD OUT!
Info: https://garage-sb.de/veranstaltungen/frog-leap/