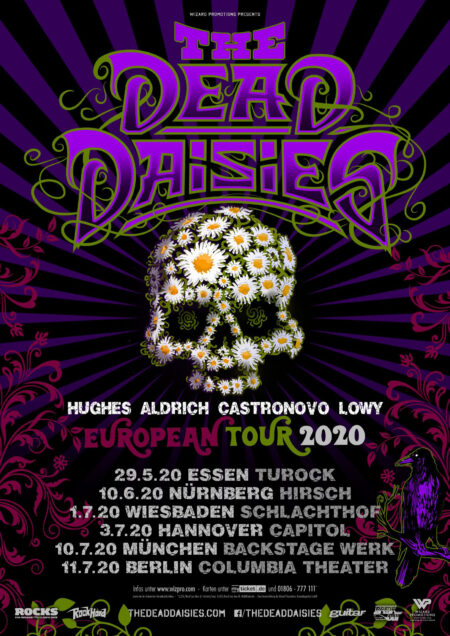 The All-Star Rock band is back with a new line-up! European tour with concerts in Germany starting in May 2020 confirmed! Support for FOREIGNER in Stuttgart and Hamburg, and for JUDAS PRIEST in Oberhausen! New album to be released at the end of May 2020 via SPV! Online ticket presale starts on Wednesday, February 12, 2020.
The year 2020 starts with a bang for THE DEAD DAISIES. Besides the new album and a new band member, the All-Star band announced a European tour in the middle of the year, which starts in Essen on May 29, 2020. The new arranged band - DEEP PURPLE legend Glenn Hughes came for singer John Corabi and bassist Marco Mendoza - will release their recently recorded new album and perform it live during the below mentioned shows. Besides the performances in Germany, THE DEAD DAISIES come to Estonia, Russia, Czech Republic, Austria, Switzerland, France, Belgium, Spain, the Netherlands, Slovenia, Italy, Hungary, Greece, Bulgaria, and Romania.
German Tour Dates

29 May 2020 – Essen, Turock
10 Jun 2020 – Nuremberg, Hirsch
13 Jun 2020 – Stuttgart, Schleyer-Halle / Support for Foreigner
23 Jun 2020 – Hamburg, Stadtpark Freilichtbühne / Support for Foreigner
24 Jun 020 – Oberhausen, Arena / Support for Judas Priest
01 Jul 2020 – Wiesbaden, Schlachthof Wiesbaden
03 Jul 2020 – Hanover, Capitol
10 Jul 2020 – Munich, Backstage Werk
11 Jul 2020 – Berlin, Columbia Theater
On Wednesday, February 12, 2020 at 10:00 a.m., the ticket providers MyTicket and CTS Eventim started their online ticket presale. General ticket presale started on Friday, February 14, 2020 at 10:00 a.m. Get your ticket at www.myticket.de or by phone at +49 (0) 1806 - 777 111 (20 cents/call, mobile max. 60 cents/call) and at all known ticket shops.
The saying goes like this: Rock'n'Roll means that the journey is the reward. THE DEAD DAISIES start the year 2020 with a new band member constellation. Since summer 2019, the Rock legend Glenn Hughes (ex-DEEP PURPLE, ex-GARY MOORE, ex-BLACK SABBATH, BLACK COUNTRY COMMUNION) replaces singer John Corabi and bassist Marco Mendoza. Already in September, THE DEAD DAISIES released the first single, 'Righteous Days', from their new album, which was finished at the beginning of January in France. The following world tour is a combination of concerts at big arenas (e.g. with JUDAS PRIEST and FOREIGNER), Open Airs like the Graspop and Hellfest, and headliner club dates. The tour starts on May 29, 2020 at a small club in Essen, where the new line-up has to go through the live baptism of fire.
THE DEAD DAISIES are Glenn Hughes, guitarist Doug Aldrich (ex-WHITESNAKE / DIO), David Lowy (ex-MINK / RED PHOENIX), and drummer Deen Castronovo (ex-JOURNEY / BAD ENGLISH / HARDLINE). With the Rock And Roll Hall Of Fame member Hughes, the band enters a new chapter of band history; his skills as bassist and his reputation as "The Voice of Rock" will contribute the fact that THE DEAD DAISIES are one of the best and best known representatives of Classic Rock. Glenn Hughes said: "I love to perform live because of the importance of the moment. I very look forward to go on tour with The Dead Daisies and to play as most stages on this planet as possible. The writing and recording of the new album was euphoric, and I almost can't wait the fans to listen to it." The still untitled album was recorded by producer Ben Grosse at the La Fabrique Studio in South France and is released at the end of May.
Further information: www.thedeaddaisies.com | www.facebook.com/TheDeadDaisies | www.spv.de