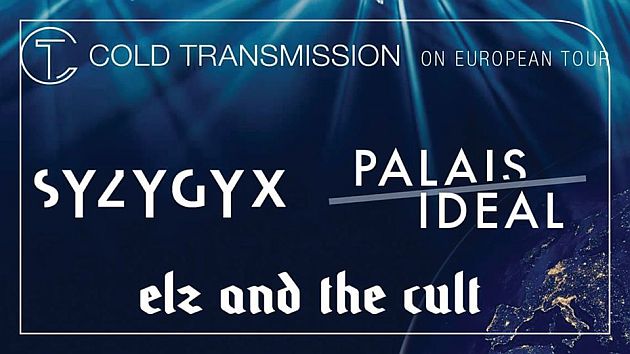 MS Stubnitz, Hamburg, Germany
11th March 2020
S y z y g y x, Palais Ideal & Elz And The Cult - "Cold Transmission on European Tour"

Cold Transmission Music is an international music label, founded in 2018 and promoting bands from the Dark & New Wave, Shoegaze, Coldwave and Post Punk genres. Along with support and promotion for their bands, the label also hosts a show on Mixcloud, organizes many concerts and parties and will hold the Cold Transmission Festival 2020 on 21st and 22nd August in Blue Shell, Cologne (more info: https://www.facebook.com/events/471361446925391/).
In March 2020 Cold Transmission is touring with three of its label bands - S Y Z Y G Y X, PALAIS IDEAL and ELZ AND THE CULT - through Europe. The countries they will be visiting on this leg are Italy, Germany France, Israel and Russia - 14 dates in little more than two weeks.
S Y Z Y G Y X are Josh Clark and Luna Blanc from Washington D. C. in the US. Both share their passion for art and music for many years. Josh has been creating a lot in the Electronic music genre and was previously known as DJ Impulse. Also Drum'n'Bass is a familiar genre for him from the time with SINTHETIX and CORRUPT SOULS. Luna has been passionate for a long time about keyboard, but also photography, film and writing. The special thing about their creating together is that they are changing up in everything they do on stage, be it the vocals, drums, bass, production and so on. With their music S Y Z Y G Y X kidnap the listener into spherical, mastic worlds of Cold Wave and Electronic music. Their latest long-player 'Fading Bodies' was released in October 2019.
PALAIS IDEAL from the Eindhoven in the Netherlands combine elements of New Wave and Post Punk in their creations. Richard van Kruysdijk (bass, guitar, backing vocals, synths, programming) and John Edwards (vocals, synths, guitar, programming) are using instruments that are linked to the authentic sound of the 80ies. They released their first single 'The Programme' in April 2018. Their debut album 'Pressure Points' followed in May 2019, mixed and produced by John Fryer (NINE INCH NAILS, DEPECHE MODE, COCTEAU TWINS among others) in Los Angeles. PALAIS IDEAL music is inspired by artists like NEW ORDER, THE CURE or THE SISTERS OF MERCY.
ELZ AND THE CULT is the project of Istanbul-based artist Elz. Released in 2016, the single 'I Did This To Myself' brought ELZ AND THE CULT some attention and popularity, followed by the debut album 'Polycephaly'. With this album Elz won two Akademia Awards in different categories and got a nomination at Hollywood Music in Media awards along with other nominees like Diane Warren, Sam Smith and more. The long-player 'Psychodrama' followed in 2018 via Cold Transmission and Ampirik Records in Istanbul. ELZ AND THE CULT is popular for the creation of remarkable Dark Wave and Gothic Pop sounds.
This mixture of selected Cold Wave, Post Punk and Goth music promises an enchanting Wednesday night on the legendary MS Stubnitz.
Additional Concert Info

Doors: 19:00
Start: 20:00
Tickets: from 16.00 € (+ charges, additional shipping) via http://bit.ly/2uZTIKl; at the door 20,00 €
Info: https://www.facebook.com/events/3422223547849873/
Artists: https://www.syzygyxmusic.com / https://www.palaisideal.net / https://elzandthecult.com