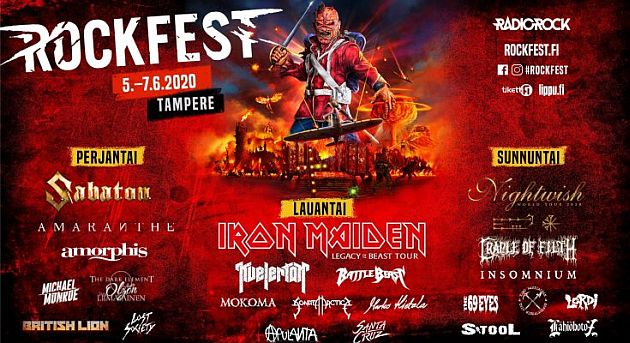 Särkänniemi Event Beach, Tampere, Finland
5th to 7th June 2020
Rockfest 2020 with Iron Maiden, Sabaton, Nightwish, Amorphis, Amaranthe, The Dark Element, Michael Monroe, Lost Society, The 69 Eyes and many more

Attention: Due to the Corona pandemic, this event is cancelled!
Summer in Finland - time to get to the biggest rock festival - Rockfest! This year, it will serve as a grand opening for the new Särkänniemi Event Beach. On Friday SABATON will shake Tampere for sure, followed by IRON MAIDEN on Saturday, who will make the show in Tampere a part of the grand finale of their "Legacy of the Beast" world tour. On Sunday NIGHTWISH will take the stage and since the band will release a new album in spring, there is a chance that there will be some new songs on the setlist.
Many of the bands from Finland known all over the world, will be on stage in Tampere, like AMORPHIS, THE 69 EYES, MICHAEL MONROE, INSOMNIUM, MARKO HIETALA and many more. There is no campsite, so you have to find a room in Tampere or travel from one of the surrounding towns.
Tickets

There are various ticket packages available, the standard ticket for 3 days starts from for app 179€ plus tax and shipping. Secure your place in the biggest Rock event of the year and purchase your tickets now! Tickets are sold by
TIKETTI
and
lippu.fi.
Further information: www.rockfest.fi/in-english/
Line-up

Iron Maiden, Sabaton, Nightwish, Amorphis, Amaranthe, The Dark Element, Michael Monroe, Lost Society, Battle Beast, Mokoma, Sonata Artica, Apulanta, Santa Cruz, Marko Hietala, Cradle of Filth, Insomnium, The 69 Eyes and many more.