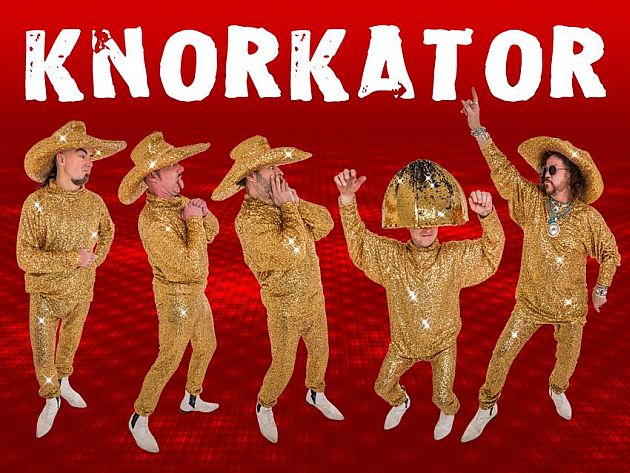 Täubchenthal, Leipzig, Germany
6th March 2021
Knorkator - "Zweck ist widerstandslos" Tour 2020

Attention: due to the Corona crises, this concert is rescheduled from April 2020 to March 2021!

The Berlin band KNORKATOR is a dazzling and extraordinary music formation that succeeds in confidently and playfully combining aggressive Hardcore Metal with subtle and classic tone set. The concerts are legendary, bizarre interchangeable baths of colourfully mixed styles on the one hand and light-footed dance between rough curses and delicate poetry, pathetic megalomania and infantile nonsense on the other.


Singer Stumpen is the personification of this diversity. As a large-scale tattooed bald man, he scolded his audience loudly in order to smash arias in the next moment with dizzying falsetto. Pianist Alf Ator, who is also responsible as a composer and lyricist, likes to smash his instruments to the beat or throw foam rubber organs into the audience. With his figure and guitar sound, guitarist Buzz Dee drives the band's sound self-determined and independently. Stumpen and Alf Ator founded KNORKATOR in 1994. In May 1996, Buzz Dee replaced the first guitarist J. Kirk Thiele. Over time, KNORKATOR could perfect their sound with the help of various musicians.

First, the band won their audience in Berlin and Brandenburg. With their success in a newcomer competition, they became known across the Berlin borders. In 1996, KNORKATOR toured through Germany as support for RIO REISER. In 1998, the musicians signed their first record deal with Rodrigo Gonzalez (DIE ÄRZTE). By 2016 KNORKATOR had released eight studio albums, three DVDs and a number of singles on Universal, Nuclear Blast, Sanctuary and their own label Tubareckorz.

Additional Concert Info
Doors: 19:30
Start: 21:00
Tickets: Sold Out
Info: https://www.taeubchenthal.com/veranstaltungen/knorkator-2/
Artist: https://www.facebook.com/knorkatormusik
Facebook Event: https://www.facebook.com/events/2079716692070773/

More on Knorkator