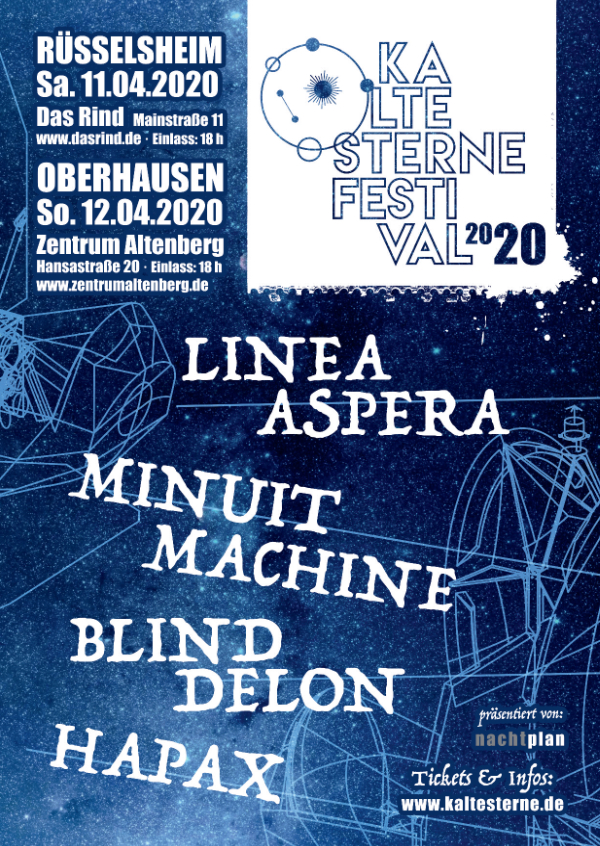 Das Rind, Rüsselsheim & Zentrum Altenberg (Schlosserei), Oberhausen, Germany
11th and 12th April 2020
Kalte Sterne Festivals 2020 with Linea Aspera, Minuit Machine, Blind Delon and Hapax

No signs of fatigue! The line-up of the fifth edition of the annual Kalte Sterne Festival can also convince in terms of quality. Again, the title is all about the "underground of the underground", but in that special scene where the insider tip is a foreign word, the stars, which are still cold upwards, are already a very hot potato. This time they are LINEA ASPERA, MINUIT MACHINE, BLIND DELON and HAPAX.
The London-based Synth Pop and Dark Wave duo LINEA ASPERA had previously been known as a club hit supplier to the scene before singer Zoé Zania's successful solo path and quickly found her audience with the KELUAR project. Now they are freshly reunited as LINEA ASPERA and you can experience the current album 'Preservation Bias' as well as the established club hits like 'Eviction' and 'Matarone' on German stages. MINUIT MACHINE from Paris are musically similar. The women's duo, however, goes a little deeper, allows the urge to dance to take a break, and lives up to the Cold Wave label. If the music world were a little more transparent, the message "Customers who bought ZOLA JESUS might also like MINUIT MACHINE" would appear in an online shop.
BLIND DELON from Toulouse commute between Dark Wave and Post Punk, without foregoing electronics like a driving drum computer and catchy keyboard lines. In terms of tempo, they are best compared to SHE PAST AWAY, and even the purely French vocals may come across as pleasantly exotic for some people. HAPAX arrive from Italy. Measured against BLIND DELON, the three post punkers bring a more generous pinch of Goth Rock to the festival menu, which would probably satisfy all tastes.
Everyone sounds different, everyone somehow a little 80s and yet new. Not only the revival of the black gold vinyl continues, the music styles born in the 1980s such as Post Punk, New Wave, Synth Pop, and Dark Wave continue to enjoy their rediscovered popularity. On a small scale, an enormous number of newcomers are now trying out those styles and enriching the typical sounds with individual ideas and modern production. Hardly anyone has an overview, because the fresh acts almost spring up like mushrooms. The annual Kalte Sterne Festival takes its finger on the pulse and already filters the wheat from the chaff into an extraordinary combination.
This year's event takes place at Das Rind in Rüsselsheim on April 11th and at the Zentrum Altenberg in Oberhausen on Easter Sunday, April 12th, 2020.
Additional Concert Info
Doors: 18:00
Ticket presale for Rüsselsheim: https://nachtplan.tickettoaster.de/produkte/88-tickets-kalte-sterne-festival-2020-das-rind-ruesselsheim-am-11-04-2020
Ticket presale for Oberhausen: https://nachtplan.tickettoaster.de/produkte/87-tickets-kalte-sterne-festival-2020-in-zentrum-altenberg-oberhausen-am-12-04-2020
You also get your tickets via ADticket and directly at the locations.
Linea Aspera: https://www.youtube.com/watch?v=E1JplpqHkPw
Minuit Machine: https://www.youtube.com/watch?v=X9e52UZysBQ
Blind Delon: https://www.youtube.com/watch?v=ObWq-fKnJvg
Hapax: https://www.youtube.com/watch?v=hm4bqMeXmu8