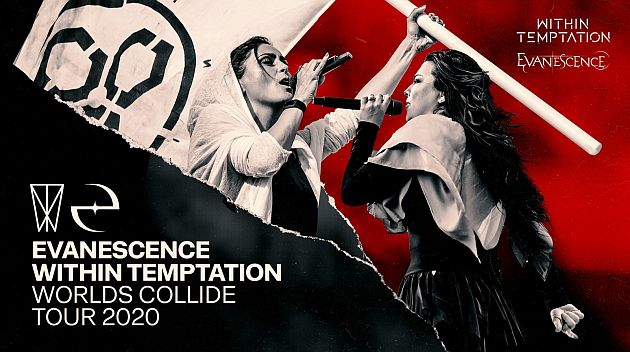 Rockhal, Esch sur Alzette, Luxembourg
24th March 2022
Evanescence & Within Temptation - "Worlds Collide Tour" - Support: Verida

Attention: due to the Corona crises, this concert is rescheduled from April 2020 to September 2021 and further to March 2022!
Metal is actually a male domain, but two of the biggest heavyweights of the scene are led by female voices: EVANESCENCE & WITHIN TEMPTATION are going on "Worlds Collide Tour" together in 2021. With two of the most influential and creative women in the Rock world on the front line, this co-headliner tour promises to be one of the biggest and most exciting of the coming year.
It was only in September that EVANESCENCE and WITHIN TEMPTATION appeared on the same stage for the first time at the Riverside Open Air in Switzerland. Now they dropped the bomb and announced a joint headline tour for 2021. When you listen to the music of the two bands, the connection is actually obvious: Here, great melodies, distorted guitars and lots of energy meet powerful female voices and great hit potential.
EVANESCENCE, the group around front woman Amy Lee, was founded in 1995 in Little Rock Arkansas, USA. Their breakthrough came in 2003 with the international super hit 'Bring Me To Live'. The single and the accompanying album 'Fallen' brought them not only two Grammys, but also numerous gold and platinum awards and top ten chart positions in the USA and Europe. The follow-up albums 'The Open Door' (2006) and 'Evanescence' (2011) were also very successful. In 2017, their last album to date, 'Synthesis', was released, which expanded the band's sound world with orchestral arrangements and included new pieces as well as reinterpretations of their greatest hits.
WITHIN TEMPTATION can also look back on an almost as long and successful band history. Founded by Sharon den Adel and Robert Westerholt in 1996 in Waddinxveen, Netherlands, they achieved their first international success in 2000 with their second album 'Mother Earth'. Their Symphonic Metal became more and more successful on the following albums 'The Silent Force' (2004), 'The Heart of Everything'(2007), 'The Unforgiving' (2011) and 'Hydra' (2014) and the band gained more and more loyal fans at their own concerts and numerous festivals. With their latest album 'Resist' (2019) WITHIN TEMPTATION also made it to the top of the album charts in Germany. They belong to the most successful Dutch acts ever.
For many fans of epic music, this alliance should be an absolute stroke of luck, because both bands are known for an opulent and absolutely impressive stage show. All the better that you will soon be able to experience them on one evening.
Additional Concert Info

Doors: 19:00
Start: 20:00
Tickets: 63€ + presale-fees via rockhal.lu
Info: https://www.rockhal.lu/events-tickets/metal-heavy/show/detail/evanescence/
Facebook Event: https://www.facebook.com/events/757632814667053/
More on
Evanescence
,
Within Temptation
&
Veridia