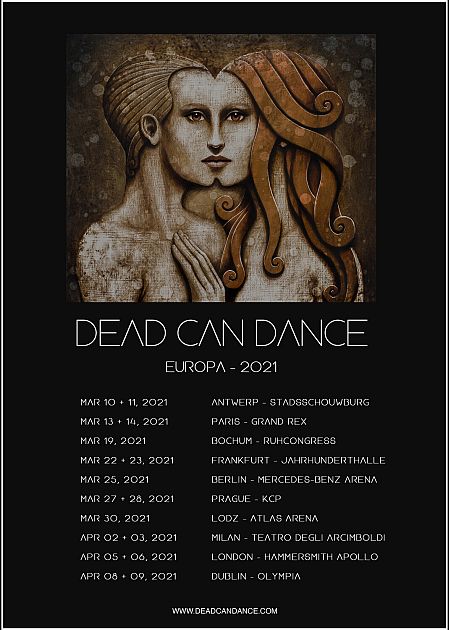 RuhrCongress, Bochum, Germany
17th April 2022
Dead Can Dance

Attention: due to the current Corona situation, the tour is postponed to April 2022. Tickets remain valid!
After the sold-out tour last year, DEAD CAN DANCE have now announced that they will return to Germany as part of their planned "Europe -2021" tour in spring 2021. DEAD CAN DANCE is Brendan Perry and Lisa Gerrard, two with a lot of passion musicians who formed an extraordinary duo in the pubs of Melbourne in the early 80s.
Shaped by the cultural diversity around them, Brendan and Lisa - both of whom have Anglo-Irish roots - developed their own style independently of each other in their numerous pub appearances. The two have been making music together since the early 80s and have been an artist collective for three decades now. With the diversity of cultures, DEAD CAN DANCE create a special style of music that unites many ethnic musical styles.
The influences of world music, medieval music, neo-classical and rock can be heard clearly. The duo creates spherical sounds, elven-like and dreamy, as if from another world. DEAD CAN DANCE are also set up in a variety of ways: In addition to African percussion instruments, Australian didgeridoos, Asian string instruments and conventional guitars are also used.
With their ever-growing diversity, Brendan Perry and Lisa Gerrard ensure a unique listening experience on stage. In March we can finally welcome the two exceptional talents back to Germany when they will look back on their musical career live and perform songs from three decades - including popular classics from the works 'The Serpent's Egg', 'Aion' and 'Into The Labyrinth' as well as many more.
German Tour Dates

17 Apr 2022 Bochum - RuhrCongress // original date 19 Mar 2021
26 Apr 2022 Frankfurt - Jahrhunderthalle // original date 22 Mar 2021
27 Apr 2022 Frankfurt - Jahrhunderthalle // original date 23 Mar 2021
30 Apr 2022 Berlin - Mercedes-Benz Arena // original date 25 mar 2021
Additional Concert Info

Doors: 19:00
Start:20:00
Tickets: are available from 43.50 euros plus charges (pre-sale) via
Eventim
Info: https://prime-entertainment.de/index.php?id=34&eventid=6615&p=
More on
Dead Can Dance