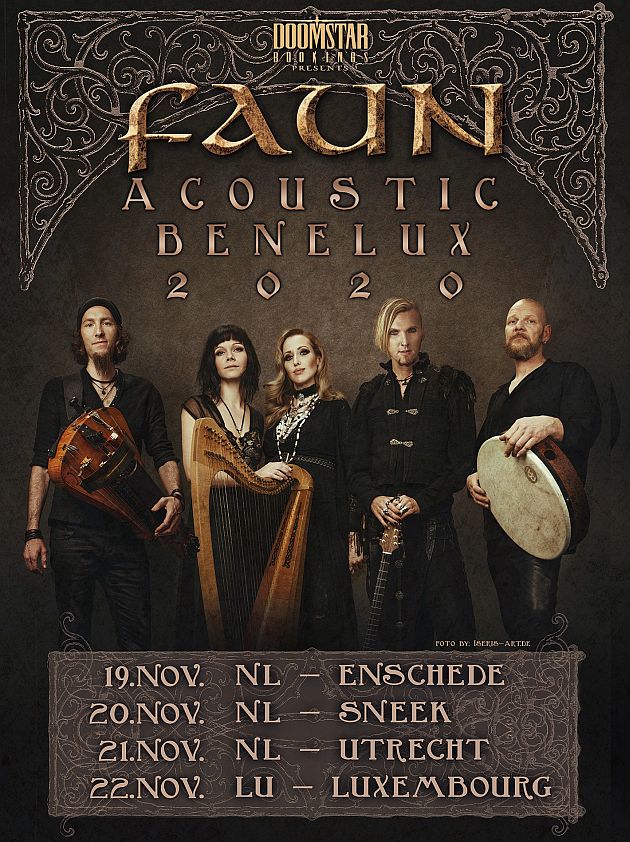 Den Atelier, Luxembourg City, Luxembourg
16th May 2020
Faun - Acoustic BeNeLux 2021 - Intimate Shows by den Atelier

Attention: Due to the Corona pandemic, the cincert is postponed to May 2021. Tickets remain valid!
Due to the health crisis, a lot of amazing tours and concerts are postponed to next year or are even cancelled. But some artists are making their way back to the little Grand-Duchy. Den Atelier announced a series of concerts planned to take place during the last quarter of 2020. The series named "Intimate shows"" already kicked off in Opderschmelz on 4 October with SERDAR SOMUNCU, followed by HANIA RANI on 8 October at Den Atelier itself. Four more concerts are planned for November, starting on 21 November when CHASSOL play at Opderschmelz. On 22 November, FAUN will play Den Atelier, followed by STEPHAN EICHER on 25 November at the Philharmonie and KLEIN + GLASS MUSEUM on 29 November at Den Atelier. The final concert in the series will take place on 12 December, when HOOVERPHONIC will make an appearance at Den Atelier.
Den Atelier has prioritised visitor safety above all when planning the concerts - for this reason, a number of hygiene measures will apply to allow guests to safely enjoy the show. Ticket sales will limit the number of people allowed inside, while seating will be reserved to allow social distancing between attendees. Masks must be worn once inside.
First concert where we, the webzine of Reflections of Darkness, will attend is the evening with FAUN. FAUN combines medieval and ancient instruments with modern influences to create an enchanting and powerful atmosphere. The German Pagan Folk band incorporates traditional themes along with a contemporary electronic musical sheen. Founded in 2002 in Munich, the band is comprised of Oliver S. Tyr (vocals, nyckelharpa, Celtic harp, bouzouki), Fiona Rüggeberg (vocals, bagpipes, flutes), Laura Fella (vocals), Stephan Groth (hurdy-gurdy, vocals), Rüdiger Maul (percussion, drums) and Niel Mitra (programming, sampler, synthesizer).
The band made its recording debut in 2002 with 'Zaubersprüche' (2002), followed by 'Licht' (2003), 'Renaissance' (2005), and 'Totem' (2007), the latter of which was their first to break into the German Top 100 album chart. In 2008 the band released its first live album, 'Faun & the Pagan Folk Festival' (2008). An entirely acoustic album, 'Buch der Balladen', appeared in 2009 followed in 2011 by 'Eden'. In 2013, FAUN signed with Universal Records and released their seventh studio album, 'Von den Elben'. Nominated various times for the German Echo music award, FAUN is following the path of success with the release of the night themed album 'Luna' in the year 2014 and 'Midgard', a journey to the north also featuring EINAR SELVIK / WARDRUNA in 2016. Now, after their fifteen years anniversary and the first "Best Of" album FAUN are following the path into old fairy-tale and enchanting Myths with their upcoming album 'Märchen & Mythen'.
With a lot of security measures they will play these four concerts in the Netherlands and one show in Luxembourg in November 2020. They will be seated FAUN Acoustic concerts, with a small capacity and plenty of space between the chairs.
Additional Concert Info

Doors: 19:00
Tickets: are available from 40.60 € (+ charges) via atelier.lu/shows/faun/
Info: https://www.atelier.lu/shows/faun/