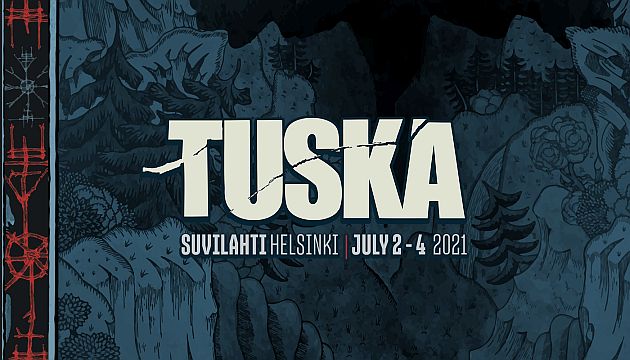 Suvilahti Event Field, Helsinki, Finland
2nd - 4th July 2021
Tuska Festival 2021 with Gojira, Deftones, Korn, Beast in Black, Waltari, Insomnium, Lost Society, Symphony X and many more

With many festivals all over Europe being cancelled again in 2021, Tuska Festival in Helsinki might become one of the last places for Metalheads to have a good weekend of heavy music in 2021. As one of the oldest Metal festivals in Finland, it feels a bit like coming home to your extended family and discover a few new bands in the genre while enjoying legendary Metal bands as well. So, mark the first weekend in July for a trip to Helsinki, to visit with Tuska Open Air.
The headliners in 2021 will be GOJIRA, DEFTONES and KORN. Besides these awesome international bands, Tuska is known to book many bands from Finland as well. For 2021 they really picked some of the top acts the Finnish scene LIKE BEAST IN BLACK, INSOMNIUM, WALTARI, LOST SOCIETY, FINNTROLL and MOKOMA. The line-up is being extended day by day, so make sure you check Tuskas news regularly.
As mentioned earlier, the festival takes place in Helsinki at Suvilathi, an old power plant area, that was turned into an event area. It's about a 3km walk from the city centre. Since it's really close to the centre and there is no public parking for cars at the festival. The closest metro stop is Sörnäinen, a several hundred meters from the festival area. There is no camping at the festival site, but Helsinki offers plenty options of accommodation.
Confirmed artists

Baroness, Beast In Black, Belzebubs, Deftone, Eluveitie, Finntroll, Gaahls Wyrd, Gojira, High On Fire, Insomnium, Jinjer, Korn, Korpiklaani, Korpsesoturi, Lähiöbotox, Lost Society, Metal De Facto, Mokoma, Oranssi Pazuzu, Perturbator, Symphony X, Devin Townsend, Vltimas, Waltari and many more tba.
Additional Info

Tickets: Day-pass from 99 € (+ charges/shipping) / 2-Days Pass from 129 € (+ charges/shipping) / 3-Days Pass from 159 € (+ charges/shipping) via https://www.tiketti.fi/tuska-festival-2021-suvilahti-helsinki-tickets/64934
More on Tuska: https://www.tuska.fi