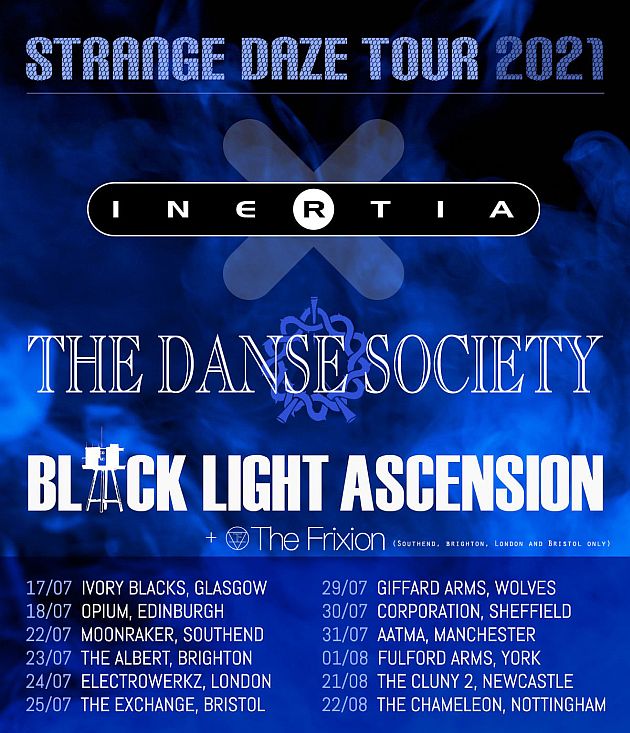 Tours are slowly being announced as hopefully the Covid situation in the UK continues to be brought under control. The Strange Daze Tour 2021 starts in July and not only shares the stage with INERTA and THE DANSE SOCIETY, the tour also brings us BLACK LIGHT ASCENSION and on some of the gigs THE FRIXION.
Tour Dates

17/07 Glasgow, Ivory Blacks
18/07 Edinburgh, Opium
22/07 Southend, Moonraker
23/07 Brighton, The Albert
24/07 London, Electrowerkz
25/07 Bristol, The Exchange
29/07 Wolves, Giffard Arms
30/07 Sheffield, Corporation
31/07 Manchester, Aatma
01/08 York, Fulford Arms
21/08 Newcastle, The Cluny 2
22/08 Nottingham, The Chameleon
Reza Udhin of INERTA is well known in the UK scene - also for playing in KILLING JOKE. INERTA were once described as the best and most aggressive band in London by GARY NUMAN. They are an excellent live band and well worth seeing. THE DANSE SOCIETY need no introduction, they have been reinventing darkness for the last forty years and make this tour an enviable combined prospect with INERTIA. BLACK LIGHT ASCENSION formed in 2010 and are a rather splendid mix of post-punk and raw dance. THE FRIXION join them for Southend, Brighton, London and Bristol. They are an electro-pop duo formed in 2017.
Tickets can be bought at https://www.fatsoma.com/search?page=1&query=inertia