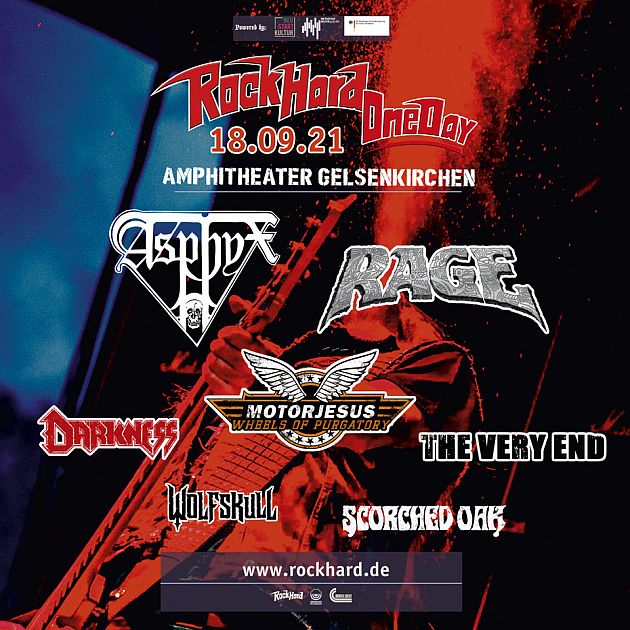 Amphitheater, Gelsenkirchen, Germany
18th September 2021
Rock Hard One Day 2021 with Asphyx, Motorjesus, The Very End, Darkness, Wolfskull, Scorched Oak

After the Rock Hard Festival 2021 had to be cancelled like all major music events, the organizers are now setting up a one-day festival under Corona conditions. The first 1,000 tickets went to fans of the powerful music within a very short period of time; due to changes in legal regulations, additional seat tickets can now be sold for the wide area around the Gelsenkirchen Amphitheater.
Rock Hard publisher Holger Stratmann: "We are extremely pleased and came as a surprise after a fancy festival summer. Live music is much more than just consumption or recreational activities, it is an important elixir of life for all friends of hard sounds."
The conditions for the event are determined by the current Corona Protection Ordinance of the state of North Rhine-Westphalia (currently from August 17, 2021). Access to the event is only granted to people who are verifiably vaccinated, recovered or tested (GGG). "As always, we rely on the serenity and mutual consideration of our visitors and assume that we will have a relaxing day with the very best music despite the requirements (keep your distance, mask requirement in a few places). We look forward to it!" The website of the organizers provides current information on the topic. Tickets can also be pre-ordered there (45 euros plus advance booking fee). www.rockhardfestival.de
Due to the changing travel restrictions, only bands from the surrounding area are eligible for the program, but they have it all. With their last album 'Necroceros', the Dutch Death lead masters ASPHYX achieved a true bestseller in the scene. Since the pandemic, the local heroes RAGE from Herne have finally acted as a quartet again and even have their brand-new album 'Resurrection Day' in their luggage for the live premiere. MOTORJESUS already got the trip behind them during the Corona period. 'Hellbreaker' made it into the top 20 of the German charts. The guys just couldn't really present the album live. They share this fate with THE VERY END, whose album 'Zeitgeist' received much praise from the specialist press. The Essen Thrash institution DARKNESS, on the other hand, can rely on the fact that the fans in the Ruhr area are very familiar with the troupe's two comeback albums.
With the Dark Heavy Rockers WOLFSKULL and the Stoner-Doomers SCORCHED OAK, two strong Ruhr area bands complete the event, which were awarded in Rock Hard for the best in-house production of the month. In between, DJ Martin plays excerpts from his 'Burning Steel' program.