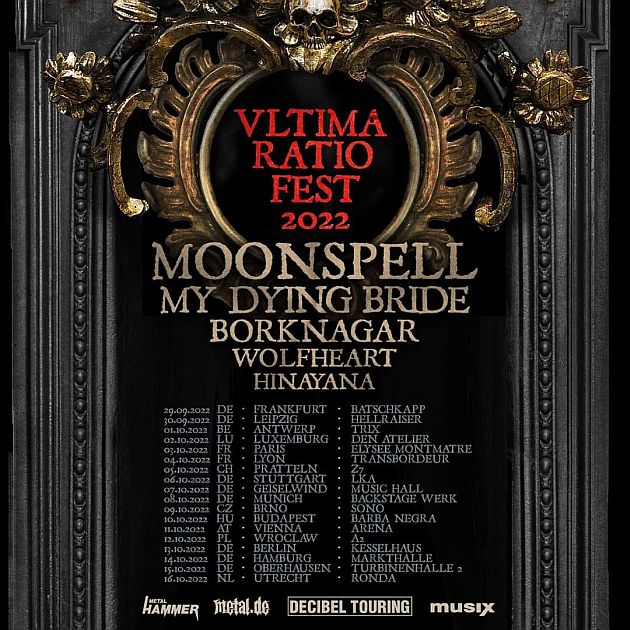 Anticipation is known to be the greatest joy: fans of the cultivated Dark Metal should therefore already mark the autumn 2022 firmly in their calendars: From the end of September next year, the Portuguese Gothic Metal pioneers from MOONSPELL are going on an extensive European tour - at the same time they are celebrating their 30th anniversary! With MY DYING BRIDE, BORKNAGAR, WOLFHEART and HINAYANA they have a more than top-class tour package with them!
The cult band around front man Fernando Ribeiro has had a major impact on the Dark Metal scene since their beginnings. Their roots are in Black Metal, but MOONSPELL quickly established their very own sound character, which they have now enriched with very progressive elements. Their penchant for theatrics, their dark and occult orchestral sound atmosphere and captivating melodies are legendary. Founded at the end of the 80s, MOONSPELL have lost none of their topicality to this day: their current album 'Hermitage' went straight to number 19 in the German charts this year!
With MY DYING BRIDE, one of the Doom Metal bands par excellence joins the line-up. Along with PARADISE LOST and ANATHEMA, the British from Halifax are considered one of the Big Three who popularized the genre in the 90s. However, the formation was rarely seen on tour - in this respect the "Ultima Ratio Tour" offers one of THE opportunities to experience MY DYING BRIDE and their latest album 'The Ghost Of Orion' live!
The Progressive Black Metallers from BORKNAGAR are not a blank slate either. The formation, founded in 1995, consists of members from, among others, ENSLAVED, IMMORTAL, GORGOROTH and ULVER. Hardly any other formation has developed classic Black Metal with as much musical versatility as the Norwegians.
And although the Finns from WOLFHEART have only been active since 2013, they have already made a name for themselves with their doomy-melodic sound. With their last album 'Wolfes Of Karelia' they even made it to number eight in the charts. The Melodic Death Metal newcomers from HINAYANA round off a first-class tour package: The band from Texas made a name for themselves for the first time with their 2018 debut and with their last output, 'Death Of The Cosmic', they were able to fully establish themselves as a solid bank of the finest US Death Metal prove!
MOONSPELL front man Fernando Ribeiro is particularly looking forward to the upcoming tour: "Musically, this could be one of the best tours MOONSPELL has ever been on. MY DYING BRIDE are one of our all-time favourites when it comes to emotional songwriting and there is probably no other band that can play Doom in this form. BORKANAGAR's last album ('Pure North') is an absolute masterpiece and I don't have to mention that WOLFHEART will forever have a special place in our hearts, if you like bands that do everything just for the music, you just have to love them! On this tour, we will review our previous careers and perform old classics, new songs and previously seldom played tracks. Prepare yourself for a very special journey through our musical work. This tour is already one of the greatest affairs of the heart in 2022!"
Even after 30 years of MOONSPELL, Ribeiro and his band colleagues are as active as ever. After the recently released, last studio album 'Hermitage', the Portuguese recently announced a new edition of their 5th album 'Darkness And Hope' as well as a re-release of the ultimate MOONSPELL classic 'Irreligious'! One thing is for sure, MOONSPELL will not spoil themselves and the upcoming tour will definitely include timeless classics, modern hymns and many other highlights! Experience the 'Ultima Ratio Fest' tour live in the following cities, advance booking starts on October 1st:
29.09.2022 THU - (DE) Frankfurt, Batschkapp
30.09.2022 FRI - (DE) Leipzig, Hellraiser
01.10.2022 SAT - (BE) Antwerp, Trix
02.10.2022 SUN - (LU) Luxemburg, Den Atelier
03.10.2022 MON - (FR) Paris, Elysee Montmatre
04.10.2022 TUE - (FR) Lyon, Transbordeur
05.10.2022 WED - (CH) Pratteln, Z 7
06.10.2022 THU - (DE) Stuttgart, LKA
07.10.2022 FRI - (DE) Geiselwind, Music Hall
08.10.2022 SAT - (DE) Munich, Backstage Werk
09.10.2022 SUN - (CZ) Brno, Sono
10.10.2022 MON - (HU) Budapest, Barba Negra
11.10.2022 TUE - (AT) Vienna, Arena
12.10.2022 WED - (PL) Wroclaw, A2
13.10.2022 THU - (DE) Berlin, Kesselhaus
14.10.2022 FRI - (DE) Hamburg, Markthalle
15.10.2022 SAT - (DE) Oberhausen, Turbinenhalle
16.10.2022 SUN - (NL) Utrecht, Ronda
MOONSPELL online: www.moonspell.com / www.facebook.com/moonspellband
MOONSPELL are:
Fernando Ribeiro – Vocals
Ricardo Amorim – Guitar, Backing Vocals
Pedro Paixão – Keys, Guitar
Aires Pereira – Bass
Hugo Ribeiro – Drums
Tour organizer: www.decibel-touring.com