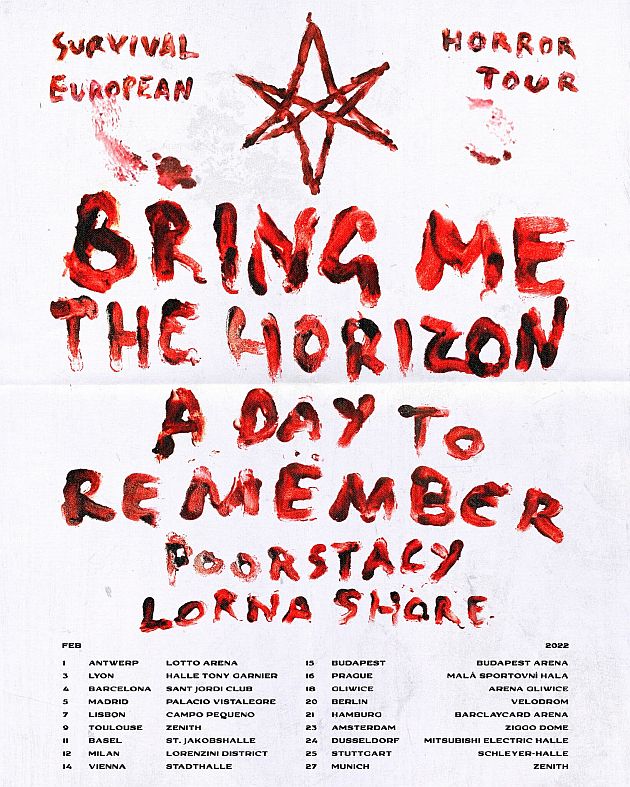 BRING ME THE HORIZON are remarkable musicians who combine powerful Rock with zeitgeist. A quintet that provides a glimpse into the future of Metal and Post Hardcore and demonstrates the changes hard music has undergone in recent years. A British formation that has found an individual identity in the densely populated field of brutal Rock music. This is in large part due to the tremendous versatility of the Sheffield quintet. Initially still clearly to be assigned to Deathcore, the following albums offered stylistic excursions between Death Metal, Metalcore, Post Hardcore, Industrial and punchy Alternative Rock, which catapulted the band to the top of the UK charts several times.
All these experiences will now culminate in the coming year: On October 30, 'Post Human: Survival Horror' appears, the first of four planned EPs, which in their entirety ultimately reflect the enormous breadth of this outstanding band. Until the end of 2022 you can look forward to new and always different surprising material from this exceptional band.
On their Germany tour in February through Berlin, Hamburg, Düsseldorf, Stuttgart and Munich they are accompanied by the hardly less successful A DAY TO REMEMBER. The quintet from Ocala / Florida combines the intense hardness of Metalcore with the snappy melody art of Pop Punk and doesn't stop at sharp-edged quotes from Post Hardcore and Heavy Metal. With great success: They have been regular guests in the international charts for five albums. Their current and eighth album 'You're Welcome', which was released in March and on which the band has worked five years - longer than on every other album, proved to be particularly successful. Nothing was left "to chance, every line and idea is important and has been developed for a long time," said singer Jeremy McKinnon. This already massive board is rounded off by two more powerful formations: the Deathcore veteran LORNA SHORE and POORSTACY.
Bring Me The Horizon + Special Guest: A Day To Remember + Supports: Lorna Shore, Poorstacy
Survival Horror European Tour 2022

Feb 20, 2022 Berlin - Velodrom
Feb 21, 2022 Hamburg - Barclays Arena
Feb 24, 2022 Düsseldorf - Mitsubishi-Electric-Halle
Feb 25, 2022 Stuttgart - Schleyer-Halle
Feb 27, 2022 Munich - Zenith
Concert tickets will be available exclusively via Eventim from Friday, October 8, 10 a.m. From Monday, October 11, 10 a.m., tickets are available from 42 Euros plus fees at all known CTS ticket points as well as via the hotline +49 (0) 1806 - 853653 (0.20 € / call from the fixed network, mobile phone max. € 0.60 / call), on fkpscorpio.com and
eventim.de
.