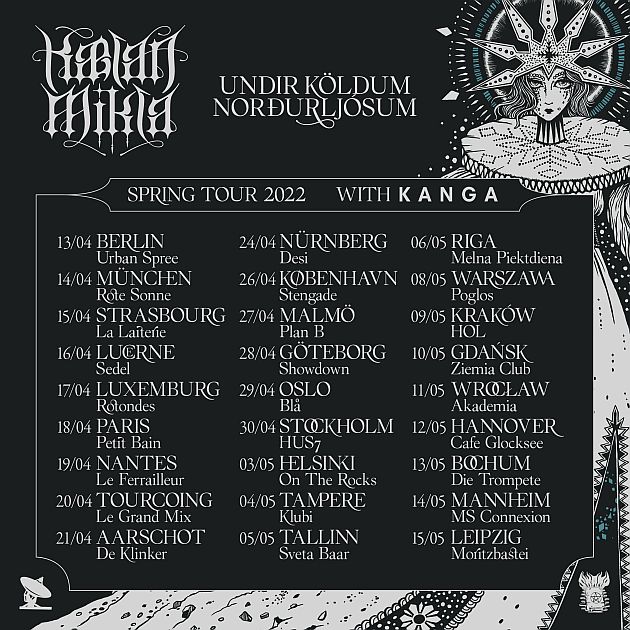 After the release of their fourth album 'Undir Köldum Norðurljósum' on Artoffact Records last week, the Icelandic Post Punk trio KÆLAN MIKLA has announced a tour for spring 2022 that will take them through twelve countries on the European continent. KÆLAN MIKLA will be accompanied on this tour by their Artoffact label colleagues KANGA. 'Undir Köldum Norðurljósum' translates as "Under the cold northern lights", is bursting with raw punk spirit and bizarre Icelandic visions that have driven KÆLAN MIKLA from the start.
Revolver Magazine put it in a recent article: "Cool, original Post Punk... In addition to the group's signature mix of ethereal native vocals, bloodcurdling screams, driving bass and mechanical drums, the LP also features a rousing guest appearance by like-minded people Blackgaze band ALCEST." KÆLAN MIKLA toured with bands such as ALCEST, DRAB MAJESTY and KING DUDE and was selected by THE CURE's Robert Smith to appear on THE CURE's 40th anniversary show and the Pasadena Daydream Festival.
KANGA from Los Angeles is a unique and strong force who single-handedly writes and performs her own kind of Dark Pop, which is characterized by a love for Industrial music. KANGA's second album, 'You and I Will Never Die', was released on Artoffact in March. In the words of post-punk.com: "[KANGA] is a unique fixed point in the scene, combining post-apocalyptic Pop sensitivity with body-hugging rhythms and winding melodies... your dynamic mix of production, songwriting, vocal melodies and synthesizers creates a lush, highly danceable tapestry." KANGA was selected by GARY NUMAN to tour the UK as main support for its 40th anniversary tour, the band also toured with THE BLACK QUEEN (Greg Puciato of THE DILLINGER ESCAPE PLAN) and others.
KÆLAN MIKLA and KANGA tour 2022

Apr 13 - Berlin, DE @ Urban Spree
Apr 14 - Munich, DE @ Rote Sonne
Apr 15 - Strasbourg, FR @ La Laiterie Artefact
Apr 16 - Lucerne, CH @ Sedel
Apr 17 - Luxemburg, LU @ Rotondes
Apr 18 - Paris, FR @ Petit Bain
Apr 19 - Nantes, FR @ Le Ferrailleur - Club Concert
Apr 20 - Tourcoing, FR @ Le Grand Mix
Apr 21 - Aarschot, BE @ Jeugdcentrum De Klinker
Apr 24 - Nuremberg, DE @ Desi Nürnberg
Apr 26 - København, DK @ Spillestedet Stengade
Apr 27 - Malmö, SE @ Plan B
Apr 28 - Göteborg, SE @ Showdown
Apr 29 - Oslo, NO @ Blå
Apr 30 - Stockholm, SE @ Hus 7
May 03 - Helsinki, FI @ On the Rocks
May 04 - Tampere, FI @ Tullikamari Tampere
May 05 - Tallinn, EE @ Sveta Baar
May 06 - Riga, LV @ Klubs Melnā Piektdiena
May 08 - Warsaw, PL @ Pogłos
May 09 - Krakow, PL @ Hol
May 10 - Gdansk, PL @ Ziemia
May 11 - Wroclaw, PL @ Akademia
May 12 - Hanover, DE @ Cafe Glocksee
May 13 - Bochum, DE @ Die Trompete
May 14 - Mannheim, DE @ MS Connexion Complex
May 15 - Leipzig, DE @ Moritzbastei
Source: Press Release