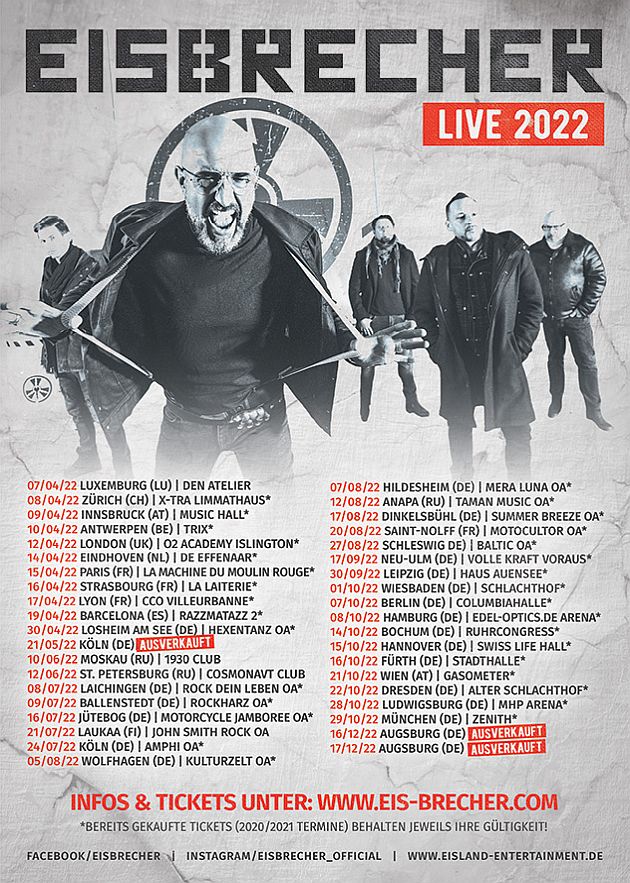 Den Atelier, Luxembourg City, Luxembourg
13th May 2023
Eisbrecher & Support: Maerzfeld

Attention: due to the Corona pandemic, the concert is postponed from April 2022 to May 2023. Tickets remain valid!
More than once in the past few months, one could have had the impression that the world had come to a standstill. But it is still turning. For some, perhaps - perceived - a little slower than expected, but for others at the usual pace. For EISBRECHER, however, the earth is currently spinning faster than ever: In October 2020, the cover album 'Schicksalsmelodien' was released and immediately reached number 4 in the album charts.
And while the last note of this in many respects remarkable disc has not even completely faded away, the new regular, altogether eighth studio album 'Liebe Macht Monster' was released on 12 March 2021. With more than a dozen new EISBRECHER songs, the upcoming disc offers many fascinating, multi-faceted and exceedingly powerfully produced songs, which singer Alex Wesselsky aptly describes as an "eternal EISBRECHER bloodbath between rock / metal and electro-industrial pop", and which once again confirm the band's shining reputation as an innovative and forward-looking formation.
Additional Concert Info

This is a Covid-Check event without restrictions. Please present your Covid-Check certificate (in digital or paper form) at the entrance. For more information about Covid-Check, visit www.covidcheck.lu
Doors: 19:00
Tickets & Information: https://www.atelier.lu/shows/eisbrecher/