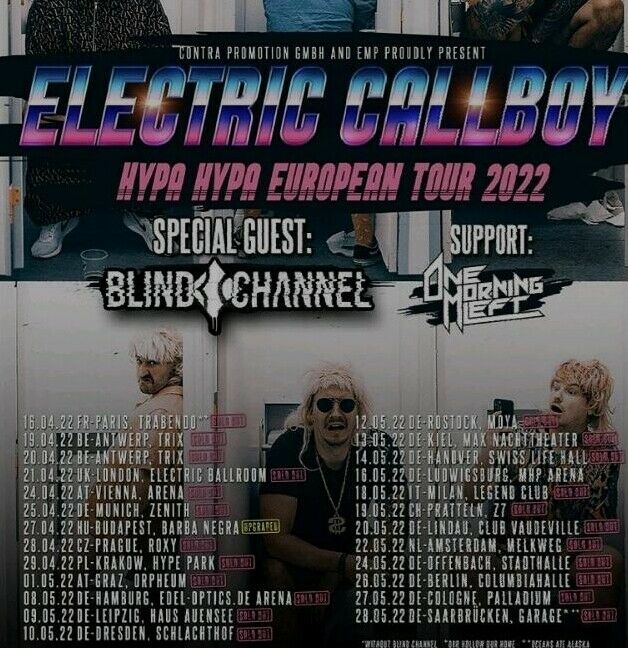 Garage, Saarbrücken, Germany
28th May 2022
Electric Callboy - "Hypa Hypa" Tour 2022 - Support: Oceans Ate Alaska, One Morning Left

In their latest video statement, ESKIMO CALLBOY officially announced the change of their band name. From now on, the well-known metalcore band will be called ELECTRIC CALLBOY. The reason for this is quite simple, the guys from Castrop-Rauxel don't want to hurt or exclude anyone with their band name and in no way promote centuries-old stereotypes. But they promise their fans to stay true to their values and their music, even if the name changes from now on.
Germans should be familiar with the following slogan: "Aus Raider wird jetzt Twix, ansonsten ändert sich nix" (Raider will now become Twix, otherwise nothing will change). Actually, they wanted to announce the name in a bigger way, with a music video, but because of the current situation (war in Ukraine) it would probably be out of place, the band emphasised.
After taking the internet by storm with their anthem 'Hypa Hypa' and the accompanying video clip and entering the Official German Charts at number 10 with their current EP 'MMXX', ELECTRIC CALLBOY announced the extended "Hypa Hypa European Tour 2022" for January and February 2022, on which the band wanted to stop in a total of 11 countries. All announced dates from January & February 2022 had to be postponed due to the current pandemic. Tickets already purchased will remain valid for the rescheduled dates. You shouldn't hesitate too long - some shows are already sold out, like the show in Saarbrücken, in other cities the shows were immediately moved to bigger venues due to the high demand. The hype is real!
Although the band did not make it to the Eurovision Song Contest, they are still happy to announce that their new album 'Tekkno' was released in September and for their "Hypa Hypa Tour", they will offer a stage show that is guaranteed to take the audience's breath away. For the shows in Paris and Saarbrücken, the support has changed. Instead of BLIND CHANNEL, OCEANS ATE ALASKA will opening up for ELECTRIC CALLBOY.
Additional Concert Info

Doors: 17:30
Start: 18:00
Tickets: SOLD OUT
Information: https://garage-sb.de/veranstaltungen/eskimo-callboy/