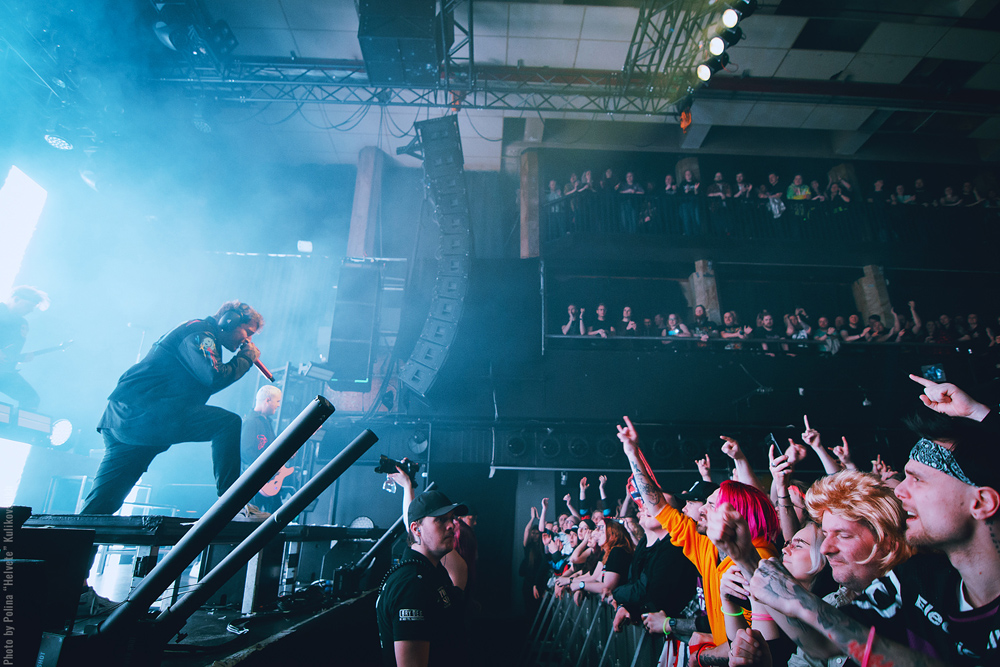 Rockefeller, Oslo, Norway
23rd March 2023
Electric Callboy - "Tekkno World Tour '23" - Special guest: Holding Absence - Support: Future Palace

"What are you standing in line for?" - asked a curious by-passer. "ELECTRIC CALLBOY" answered a guy next to me. Indeed, despite two other amazing bands playing in nearby clubs this evening, this line was huge. And as much as I personally would also like to be in three places at once, since I first heard ELECTRIC CALLBOY on Spotify last autumn, I knew I'm going for it. On the current tour the band was joined by FUTURE PALACE as support and HOLDING ABSENCE as a special guest.


Electric Callboy is currently one of the hottest acts out there and their "Tekkno Tour" went completely sold out very fast in most cities all over Europe. Their music combines a lot of styles - from Metal to Pop - with a great deal of sense of humour that finds its reflection both in lyrics and videos. So, the crowd was very colourful - you could spot anything - from Mayhem hoodies to wigs and retro sport suits in acid colours. But unmistakably with all our possible differences we came to take a ride on that "Tekkno" train and show that we got the moves!


Future Palace

First band to enter the stage was FUTURE PALACE, a German Post-Hardcore band with strong female presence. They released their second album 'Run' in 2022 and it is all about dealing with personal emotions, which is an important subject. I guess it definitely wouldn't be a mistake to say that COVID time made us all understand very well that we shall not ignore these topics and a lot of artists addressed them in their releases from the past two years. As for FUTURE PALACE they were an awesome warm-up for the other two bands and was received with great enthusiasm by the audience.

Setlist
01. Dead Inside
02. Flames
03. Ghost Chapter
04. Defeating Gravity
05. Fever
06. Locked
07. Heads Up
08. Paradise


Holding Absence

HOLDING ABSENCE is a Rock band from Wales, formed in 2015. They mix Post-Hardcore, Post-Rock and Alternative Rock. They gave a very energetic performance and it was clear that many people who came to Rockefeller club this evening were already familiar with their music and happy to see them live especially among the younger members of the audience. Most of the songs played were from the band's 2021 album 'The Greatest Mistake of My Life'.
Setlist

01. Awake
02. Celebration Song
03. Curse Me With Your Kiss
04. Like a Shadow
05. Aching Longing
06. Coffin
07. Afterlife
Electric Callboy

Sometimes the songs played in between bands really reflect the mood of the evening and 'Don't Stop Me Now' by QUEEN played right before the ELECTRIC CALLBOY came on stage was a perfect example of that, as we all had a great time and were absolutely ready for the main act. The set was opened with the song 'Tekkno train' on witch the band released a video recently. I could feel how the floor was bouncing because of the audience jumping. Huge plasma screens, pyro and confetti helped to bring this atmosphere of a crazy party to a new level. Due to the birth of his child one of the two the band's vocalists, Kevin Ratajczak, had to skip six tour dates including Oslo, so the other vocalist, Nico Sallach, had to sing for both of them and he did a really great job.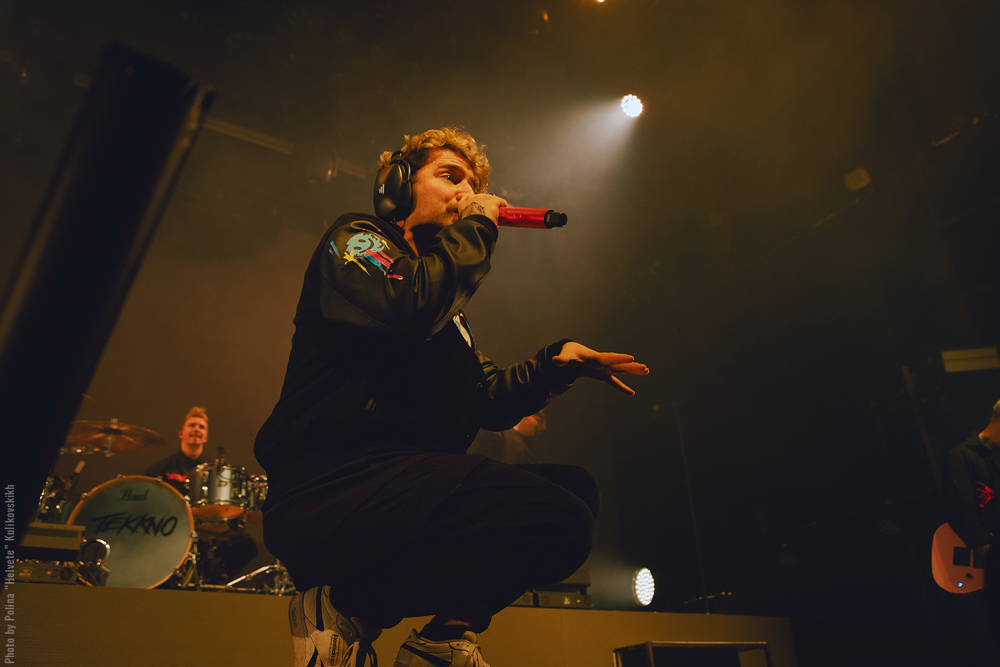 The audience was singing along with every song including BACKSTREET BOYS cover 'I Want It That Way' - always surprising how people generally listening to Metal always seem to know the lyrics of the least heavy songs out there. ELECTRIC CALLBOY has many great songs, but the one everyone was waiting the most for was 'We got the moves' from 2022 album 'Tekkno'. That was the last song of the evening and can truly be called the most delicious cherry on the pie. I hope that the band will return to Oslo again soon, as this was a kind of party you don't want to miss and the moment it is over you want to repeat it again and again.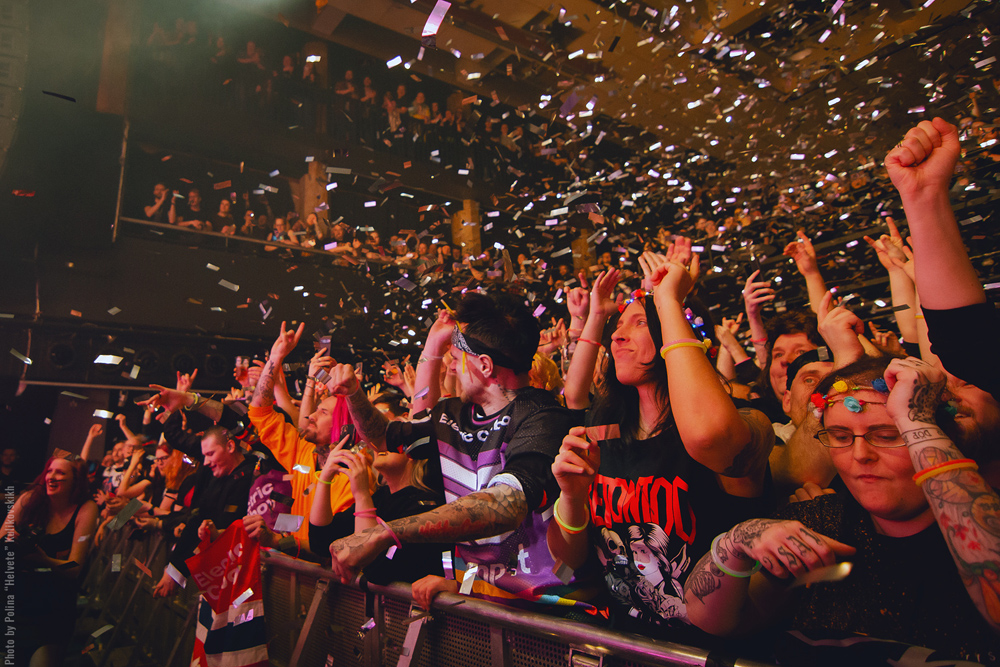 Setlist

01. Tekkno Train
02. MC Thunder II (Dancing Like a Ninja)
03. Hate/Love
04. The Scene
05. Castrop X Spandau
06. Supernova
07. Arrow of Love
08. Best Day
09. Drum Solo (with snippets of Sandstorm by Darude)
10. Hypa Hypa
11. Mindreader
12. Hurrikano
13. Neon (Acoustic)
14. I Want It That Way (Backstreet Boys cover)
15. Parasite
16. MC Thunder
---
17. Pump It
18. Spaceman
19. We Got the Moves
All Pictures by Polina Kulikovskikh
See also (all categories):