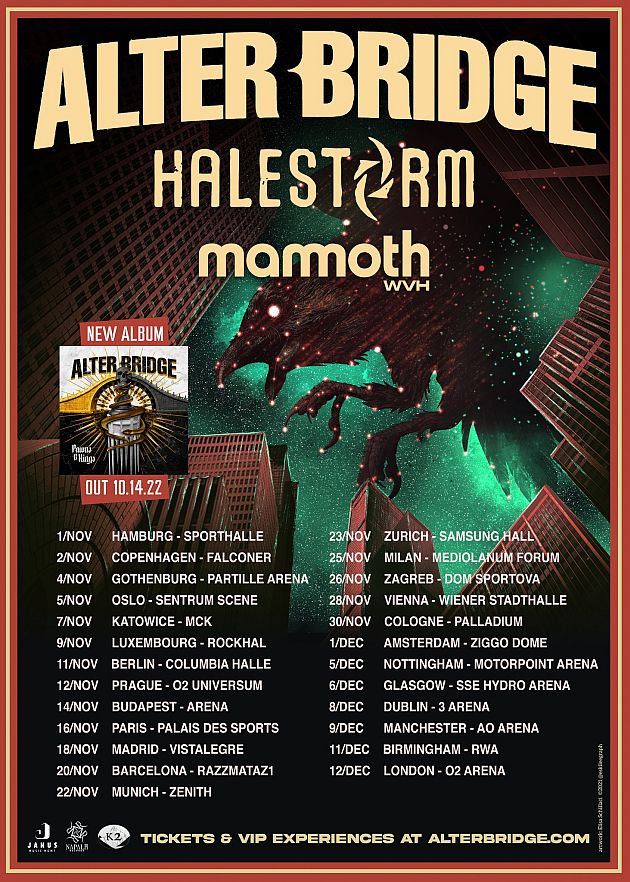 For over a decade and a half, ALTER BRIDGE has been blurring the lines between hard rock and heavy metal. The Americans are quite style-conscious and musically almost conservative - well, as conservative as it gets when you're sweaty, with long hair and a noisy rock guitar in your hand in front of an audience of several thousand enthusiastic fans, it's really awesome lets out. The four-man crew came about when the post-grungers from CREED broke up. The instrumental faction, which included guitarist Mark Tremonti, bassist Brian Marshall and drummer Scott Phillips, parted ways with their vocalist and then went on to develop their style under the new name with Myles Kennedy of THE MAYFIELD FOUR, with his enormous vocal range as the new shouter. It can be heard very well on the latest album 'Walk The Sky' from 2019.
It has become a real retrospective of ALTER BRIDGE's career. The quartet uses elements from all creative periods of the previous 15 years to develop a heavy and juicy new sound. This was made possible by a new approach: Instead of going into the studio with the pieces, Kennedy and Tremonti each developed their song ideas on their own and kept up to date online. That was necessary because they were touring separately with Slash and Tremonti. The quality has increased because the band was able to work intensively together on the design of the finished pieces:
"ALTER BRIDGE know how to balance between hard rock, heavy metal and grunge like hardly any other band, without even beginning to make a mistake to achieve," writes the specialist magazine Morecore, and metal.de adds: "With 'Walk The Sky' you carry out a constant ups and downs of emotions without getting off track. It's an absolutely perfect mix." After a period of (of course forced) abstinence from the stage, ALTER BRIDGE will come to us on tour in November to finally blow their exciting sound live into our halls again. But that's not all, HALESTORM, whose new album will be released in May, has been confirmed as a special guest. The shows will be opened by MAMMOTH WVH.
Alter Bridge with Special Guests: Halestorm, Mammoth WVH

01 Nov 2022 – Hamburg, Sporthalle
11 Nov 2022 – Berlin, Columbiahalle
22 Nov 2022 – Munich, Zenith
30 Nov 2022 – Cologne, Palladium
Tickets for the shows are available from Thursday, April 28th exclusively at
Eventim
and from Friday, April 29th for EUR 50.00 plus fees at all known CTS presale points and on the hotline +49 (0) 1806-853653 (0.20 €/call from a landline, mobile max. €0.60/call), on fkpscorpio.com and
Eventim
.