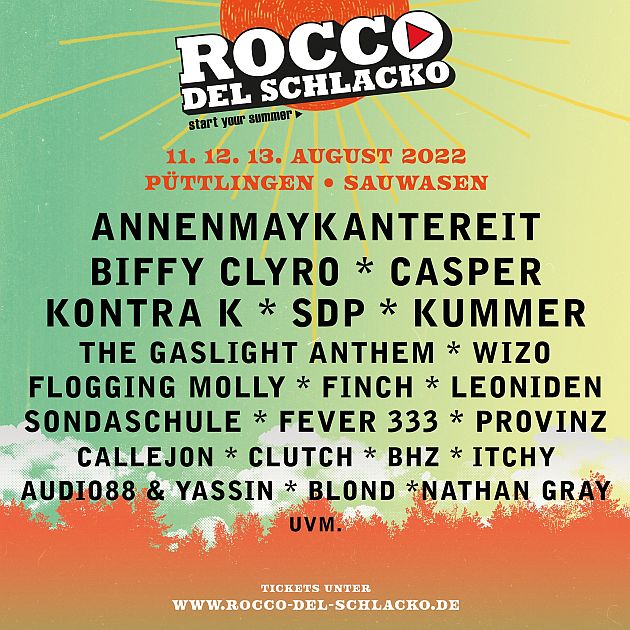 Sauwasen, Püttlingen, Germany
11th to 13th August 2022
Rocko del Schlacko 2022 with AnnenMayKantereit, Biffy Clyro, Casper, Kontra K, SDP, Kummer, Flogging Molly, Finch, Callejon, Clutch and many more

After two years, the Rocco del Schlacko will finally take place! In the contemplative Püttlingen, the madness comes back for three days! Thousands of festival friends and fans will reunite in Sauwasen. Here big figures from Rock, Pop and Independent genre meet again to bring the biggest party to the people in Saarland. The Sauwasen has already experienced a lot: The DONOTS started dust rockets, the place trembled to the music of BILLY TALENT, RISE AGAINST, BEATSTEAKS, SPORTFREUNDE STILLER, MARTERIA, MANDO DIAO, THE HIVES and many, many more made the visitors celebrate. Every year in the middle of August, the Sauwasen is filled with people that have one common goal: Dance to the best music, see their favourites on stage and just have a great time in summer! Probably the best weekend in the warmest month.
The festival starts on Thursday with one of the most famous bands in Germany: ANNENMAYKATNEREIT. 'Barfuß am Klavier' and the accompanying minimalist video finally caught everyone's attention, hits like 'Pocahontas' and 'Oft gefragt' followed and the insider tip ANNENMAYKANTEREIT became one of the biggest German-language bands of our time. The last, completely sold-out tour for the album 'Schlagschatten' alone sold 250,000 tickets. After their first appearance in 2015 on the small Ponyhof stage, we are very happy to welcome the four likeable guys from Cologne finally back - this time deservedly as festival headliner - at Rocco del Schlacko.
On Friday BIFFY CLYRO are the actual headline for that day! To the delight of all fans of cultivated, upper-body-free guitar entertainment, will continue in the usual manner in the coming year! After acclaimed and completely sold-out MTV Unplugged concerts in 2018, and only a few, very few shows in 2019, it's time for the three Scots to turn up the volume from 'Quiet' to BIFFY CLYRO again! As headliners, the three rock magicians will return to their old form with new songs in their luggage and their usual brute rock show!
CASPER is the headliner on Saturday evening and thus closes the 22nd edition at the Sauwasen! The friendly spirit of German rap, who catapulted himself into superstardom with his album 'Hinterland' at the latest, is definitely one of the most important and also most successful artists in the German-language music and pop landscape! A pioneering role model and soundtrack for an entire generation! With 'Lang lebe der Tod' and the collabo album with MARTERIA called '1982', he cemented this status once again, regularly underpinning it with his sweaty and thrilling live shows. Proven on the biggest stages in our country and several times at Rocco del Schlacko. The Sauwasen is really ultra-happy that CASPER will be honouring Köllertal once again next August and they are sure that there won't be much left of the Sauwasen on Saturday night!
Line-up (Subject to change)

Thursday: Annenmaykantereit, Kontra K, Flogging Molly, Finch, Nathan Gray
Friday: Biffy Clyro, SDP, Provinz, BHZ, Blond any many more
Saturday: Casper, Kummer, Leoniden, Clutch, Itchy, Audio88 & Yassin
Additional Festival Information

Tickets: https://tickets.rocco-del-schlacko.de
Facebook Event: https://www.facebook.com/events/635454910309242
More on: /https://www.rocco-del-schlacko.de/