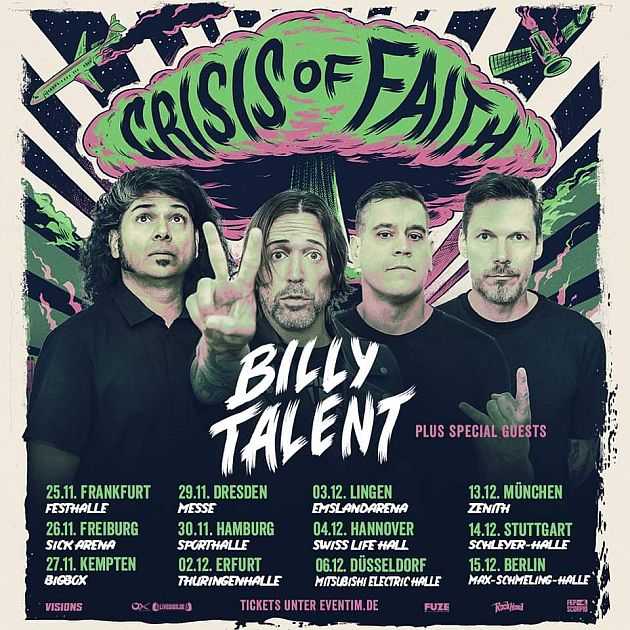 Fans of Canada's most successful Punk and Alternative Rock export have had to wait six long years for new material. But since the release of the sixth BILLY TALENT album 'Crisis of Faith' at the beginning of the year, events have taken a leap: The record immediately climbed to the top of the charts in Germany and Canada; the three singles 'Reckless Paradise', 'I Beg to Differ (This Will Get Better)' and 'End of Me' all climbed to number 1 in the German and Canadian airplay charts and exceeded 50 million before the album was released times streamed. Now worldwide concert dates have also been announced, including a full dozen shows in Germany between mid-November and mid-December 2022.
BILLY TALENT are not alone, but they are responsible for the global triumph of the Punk revival at the beginning of the millennium. When the four high school buddies Benjamin Kowalewicz (vocals), Ian D'Sa (guitar), Jonathan Gallant (bass) and Aaron Solowoniuk founded the BILLY TALENT forerunner PEZZ in 1993, all they really wanted was doing "their" music between FOO FIGHTERS and REFUSED, BUZZCOCKS and THE OFFSPRING which they lacked on the radio back then.
While PEZZ was still slightly undecided between Punk and Prog Rock, the four found their stylistic home between Melodic Punk, angry Post Hardcore and powerful Alternative Rock after the name change to BILLY TALENT in 1999. The first single, released in 2003, set the standard for everything that was to follow in the next two decades: 'Try Honesty'.
The enthusiasm was not long in coming: The debut, simply titled 'Billy Talent', convinced critics and fans across all genres, scenes and personal preferences and found itself in countless annual best lists from magazines and radio. This not only helped the band to a rapidly growing, but also rarely heterogeneous fan base, which catapulted them from newcomers to headliner positions at the biggest international Rock festivals within a few years. Since then, the quartet has proven on tours around the world that it is one of the most intense live bands in modern Rock music, which condenses every concert into a happening of pure energy and unconditional passion. It is only logical that the Canadians climb the charts with every new album and even have a permanent subscription to the top position in their home country and in Germany.
After completing their first album trilogy with 'Billy Talent III' (2009), BILLY TALENT also opened up more accessible, classic Rock elements with 'Dead Silence' (2012), 'Afraid of Heights' (2016) and the current 'Crisis of Faith' , which guitarist Ian D'Sa always records and produces at the band's own studio in Toronto. In the process, however, they have only gained in intensity and technical persuasiveness. An intensity that drummer Aaron Solowoniuk had to pay tribute to six years ago: he is still part of the band's permanent line-up; However, his MS disease made it impossible for him to live up to their exuberant energy in the long term, which is why he lets good band friends represent him on recordings and concerts.
BILLY TALENT - "Crisis Of Faith Tour" + special guests
Nov 25, 2022 - Frankfurt, Festhalle Frankfurt
Nov 26, 2022 - Freiburg, SICK-ARENA
Nov 27, 2022 - Kempten, bigBOX Allgäu
Nov 29, 2022 - Dresden, Messe
Nov 30, 2022 - Hamburg, Sporthalle
Dec 02, 2022 - Erfurt, Thüringenhalle
Dec 03, 2022 - Lingen, EmslandArena
Dec 04, 2022 - Hanover, Swiss Life Hall
Dec 06, 2022 - Düsseldorf, Mitsubishi Electric Halle
Dec 13, 2022 - Munich, Zenith
Dec 14, 2022 - Stuttgart, Hanns-Martin-Schleyer-Halle
Dec 15, 2022 - Berlin, Max-Schmeling-Halle
Tickets for the concerts are available from Wednesday, June 1, 10 a.m. exclusively via
Eventim
. From Friday, June 3, 10 a.m., tickets will be available for EUR 42 plus fees at all known CTS advance booking offices and via the hotline +49 (0) 1806 - 570070 (EUR 0.20/call from a landline, cell phone max. 60 cents/call), on fkpscorpio.com and eventim.de.