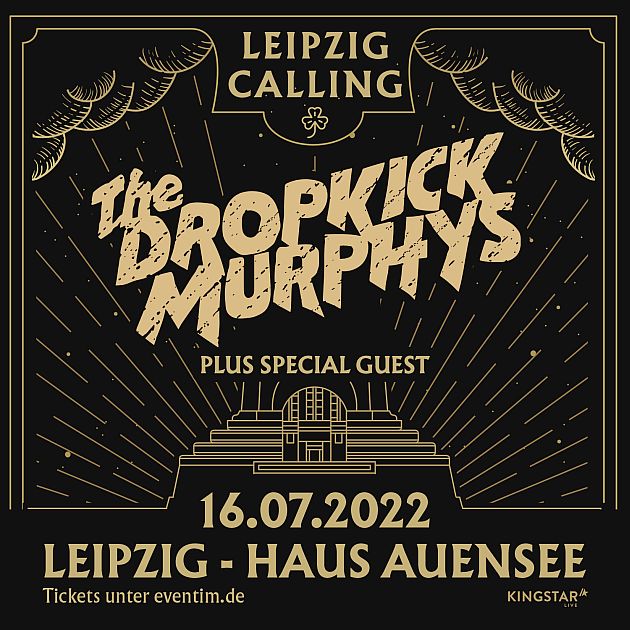 Haus Auensee, Leipzig, Germany
16th July 2022
Dropkick Murphys - "Turn up that dial Tour 2022" - Support: Booze & Glory, Toxpack, Jesse Ahern

In 2022, the DROPKICK MURPHYS from Boston, Massachusetts will finally be back on the German stage. With the "Turn Up That Dial Tour 2022", the Irish-born musicians invite you to the new program together with special guests. The seven-piece Irish-American band has been playing the finest Folk Punk with a wide range of musical facets since 1996. Don't miss a live show by the legendary DROPKICK MURPHYS in the future!


Boston is not considered the most European of all US cities for nothing. Many Irish immigrants settled in the east coast region in the 19th century. They maintain their cultural traditions here to this day. So does the DROPKICK MURPHYS, who present a live show in Boston every year for Ireland's national holiday, St. Patrick's Day. The band has achieved musical success, especially in recent times, with their albums 'Going Out in Style' and 'Signed and Sealed in Blood'. The DROPKICK MURPHYS harmoniously merge crisp Punk with Melodic Folk. A musical mix that invites you to get together, sing along and dance happily. With their rocking Folk music, they remain true to their Irish traditions on the one hand, but on the other hand they always dare to try new things. For more than two decades, the DROPKICK MURPHYS have played and firmly anchored themselves in the hearts of their fans with their distinctive and constant style. Tickets are a matter of honor.

Additional Concert Info
Doors: 19:00
Start: 20:00
Tickets: can be bought for 53.25 + charges (pre-sale) via Eventim
Info: https://haus-auensee-leipzig.de/de/dropkick-murphys
Bands: https://dropkickmurphys.com / https://www.facebook.com/boozeandgloryofficial / https://www.toxpack.de / https://jesseahern.com
Facebook Event: https://www.facebook.com/events/1009742756326989