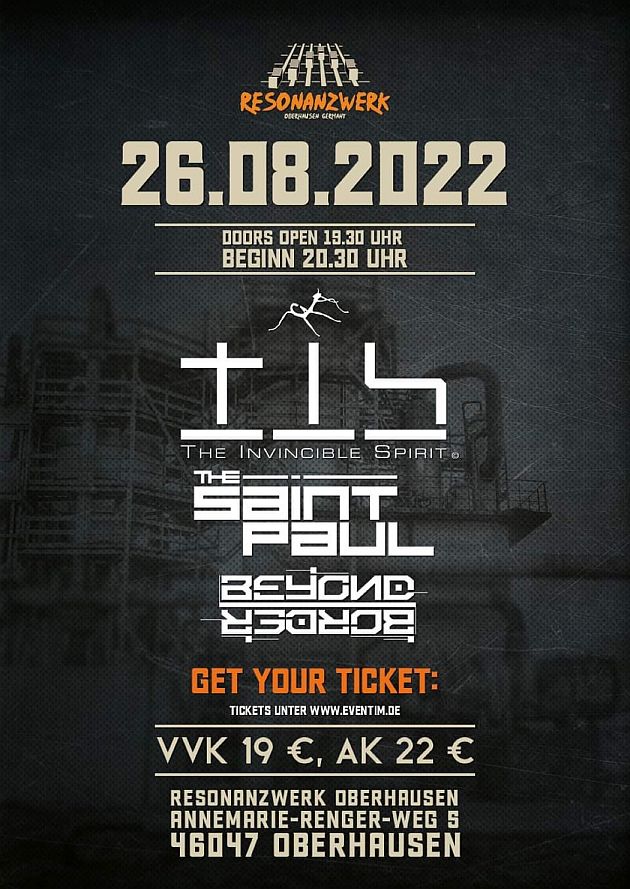 Resonanzwerk, Oberhausen, Germany
26th August 2022
The Invincible Spirit, The Saint Paul, Beyond Border

The name THE INVINCIBLE SPIRIT has been a synonym for fast danceable beats in the Dark Electro scene since the 80s. With songs like 'Push' and 'Make A Device', Thomas Lüdtke still fills dance floors today. For some years now, Thomas Lüdtke has been performing with his partner keyboarder Anja Vorel and sometimes he invites guest musicians to support him.
The second band on this evening is THE SAINT PAUL, a trio from the German Ruhrpott. With their mix of Dark Electro, EBM and Synth Pop and Paul's special voice, they still manage to stand out from the crowd. BEYOND BORDER is the third band to do the honours. A band that has received a lot of attention lately. The duo from Hildesheim is made up of DJ Deity and singer Iggy. Both are no strangers to the music scene and cover the entire spectrum of the electro scene, from catchy, danceable and clubby to beautiful ballads. If you don't want to miss these three wonderful bands, you should quickly catch a coveted ticket.
Additional Concert Info

Doors: 19:30
Start: 20:30
Address: Annemarie-Renger-Weg 5, 46047 Oberhausen
When parking, please note the additional information on your ticket and the guidance systems.
Info: https://www.resonanzwerk.de/the-invincible-spirit-the-saint-paul-beyond-border/
Tickets: presale 19€ / box office 22€ via https://www.resonanzwerk.de or
Eventim
Bands: https://www.the-invincible-spirit.de / https://www.thesaintpaul.de / https://beyondborder.de