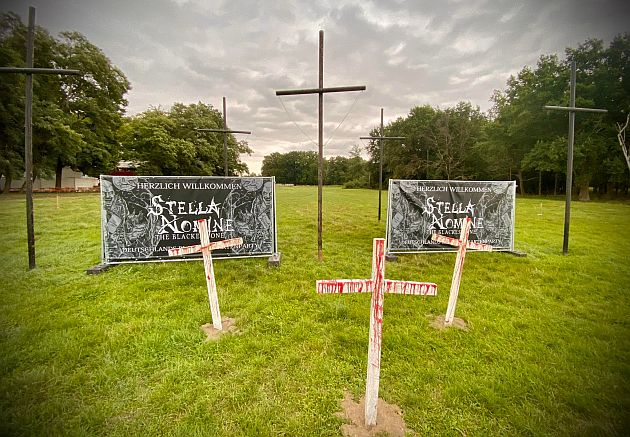 Torgau, Germany
18th to 20th August 2022
Stella Nomine 2022 with Tiamat, Christian Death, Empathy Test, Synthattac, Auger, Aeon Sable, Clan Of Xymox and many more. Including various cultural institutions in the city of Torgau.

Stella Nomine - The Blackest One enters the second round! In 2021, the year of almost no festivals, organiser Thomas Richter dared to do the unbelievable: he put on a brand-new Gothic festival. And the plan worked, it was a huge success. From 18 to 20 August, Stella Nomine will take place for the second time.
This time, too, there will not only be music and cosy flair, but visitors can also discover the beautiful Renaissance town of Torgau. With the festival wristband, there is free admission to several museums as well as the castle with the legendary bear pit. "Don't let the bears eat you," warns Thomas Richter with a laugh. But don't worry, they live at a proper distance from their visitors.
For Thomas, who also organises the annual metal festival In Flammen, the anticipation is definitely enormous. Gothic fans have also announced their attendance from abroad, tickets have also been sent to Belgium, England, Finland and Israel. Preparations are already underway for the very special act on Saturday: "Kaffee und Kuchen" (Coffee and Cake) are announced again, and in Torgau they are already busily baking.
Advance sales have ended, but don't worry: if you want to visit Stella Nomine spontaneously, you can still get tickets on site. All information on the festival, bands, running order, etc:
https://www.stella-nomine-festival.com/
Picture by Thomas Richter