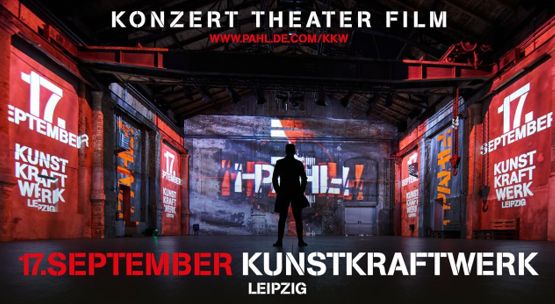 Kunstkraftwerk, Leipzig, Germany
17th September 2022
¡-PAHL-! - Concert Theater Film

¡-PAHL-! is powerfully eloquent like EINSTÜRZENDE NEUBAUTEN, brute like LAIBACH, and unsettling like Lars von Trier. ¡-PAHL-! – the electronic art and music project from Leipzig – takes the stage for the first time on September 17th. The project comes to the Kunstkraftwerk with over 1,000 minutes of video footage, aired on 15 projection screens with 1.5 hours of music. Get ready to discover 20 iconic Leipzig locations in a ground-breaking gig that shakes the boundaries of a live concert.
The music of ¡-PAHL-! combines symphonic orchestration with electronic sound art. PAHL's unique voice fascinates with both grace and rawness, while the lyrics expose modern society with a scrutinizing look on technology, the super-rich, Big Data, and the subversion of our reality.
Get your tickets now (16 EUR) for the first performance of ¡-PAHL-!. A premiere. An experience. A challenge. Immersive – intense – imaginative.
Line-up

Peter Hardlab - Host / vocals + performance + lyrics
Leo von Leibnitz - Neurosurgeon / lyrics + audio production + post production
Kay Skerra - Composition + guitar + drums
Olaf Parusel - Philosopher / Composition
Tim von Tonberg (abgedreht.productions) - camera + vfx + graphics
Additional Concert Info

Doors: 18:00
Start:21:00
Tickets: are available for 16 euros via http://www.poponaut.de/pahl-tickets-17092022-leipzig-kunstkraftwerk-p-21465.html
Info: http://pahl.de.com/kkw / https://www.kunstkraftwerk-leipzig.com/de/kulturevents/pahl