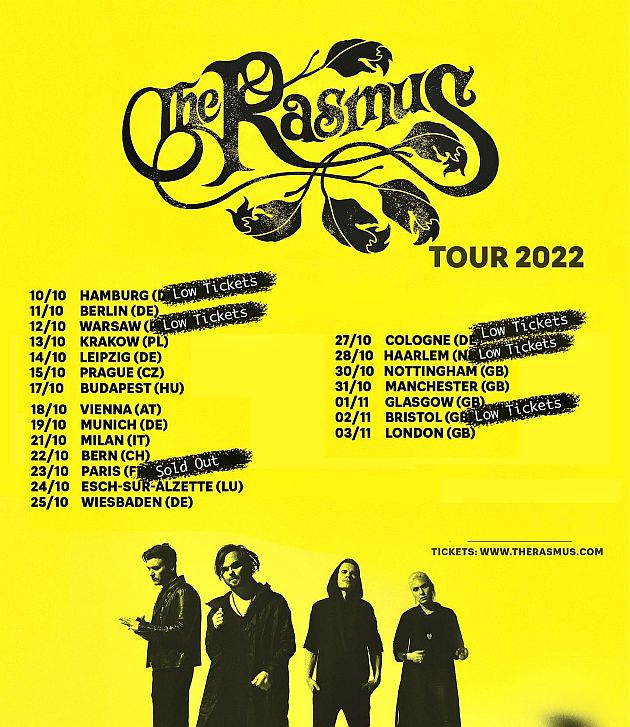 Markthalle, Hamburg, Germany
10th October 2022
The Rasmus - Germany 2022

Four years after their last album 'Dark Matters', THE RASMUS released their new single 'Bones' on 14 May 2021 and announced that their tenth studio album is in the works. Before this hit the record shelves 2022, more songs were following in advance over several months. In addition, the band has announced that they will go on tour in Germany in October 2022 and play five concerts in this country.
In their native Finland, THE RASMUS have been one of the most sought-after rock bands for a quarter of a century. They have always been firmly anchored in the Scandinavian alternative rock scene and have exerted a great influence on up-and-coming bands in this genre over the past 25 years. The band made their debut in 1996 with the album 'Peep', which reached gold status in Finland immediately after its release. With 'Dead Letters', their fifth album, they achieved their big breakthrough beyond the borders of Scandinavia in 2003 and set the milestone of their career. They owe this international success not least to the international success of the single 'In The Shadows'. That was nearly 20 years ago.
At that time, THE RASMUS had already released four records, gone platinum in their home country several times over, and played sold-out arena tours, although singer Lauri Ylönen and his band colleagues were only 21 years old. With 'Bones' and the upcoming album, the Finns now want to prove that they still belong to the greatest of European indie rock. Frontman Lauri Ylönen says the following about the latest release: "It's about bad karma. Whatever you leave behind in life will catch up with you one day". The song presents a slightly different sound of the band, but still has the typical dark impression of THE RASMUS. The band has always remained true to their style.
Nevertheless, the fans can be curious about what the musicians have come up with for their upcoming album. In October 2022, we can experience the Finns live on their German tour and celebrate the new music with them.
Additional Concert Info

Doors: 19:30
Start: 20:30
Tickets: are available from 33.65 euros via
Eventim
Facebook Event: https://www.facebook.com/events/290693562665164
Info: https://www.fkpscorpio.com/de/bands-archiv/the-rasmus/