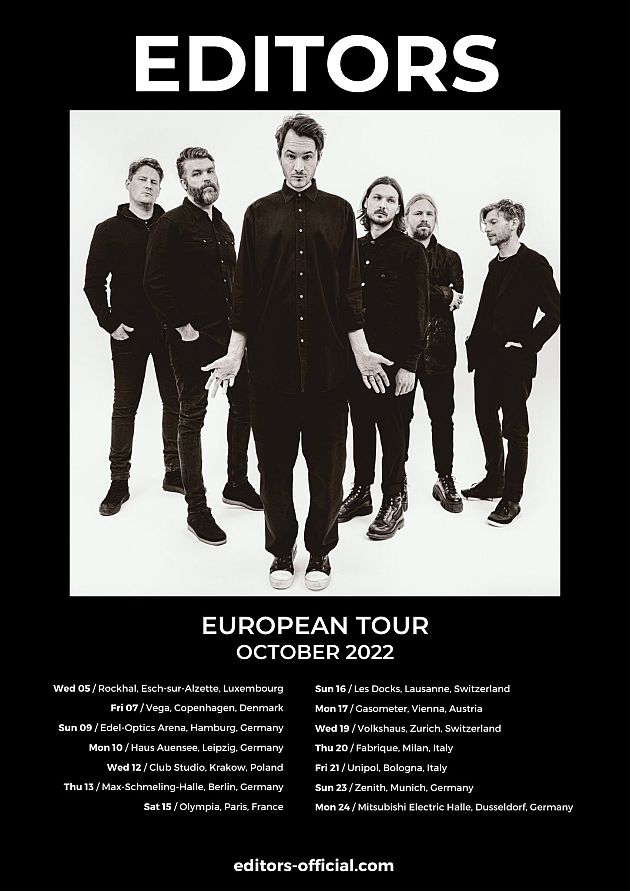 Mitsubishi Electric Hall, Düsseldorf, Germany
24th October 2022
Editors - EBM Tour 2022

EDITORS have an ability to consistently evolve their sound, whilst remaining uncompromising in their vision - the trend continues on forthcoming new album, 'EBM', our 23rd September 2022. A band who have never stood still creatively, 'EBM' is EDITORS' most leftfield material yet - a thrilling, unrelenting thrust of full-bodied electro-industrial rock. Set to arrive on September 23rd via Play It Again Sam [PIAS], the album will be the first with Benjamin John Power, aka BLANCK MASS - announced last month as a full-time member of the band alongside the release of 'Heart Attack'.
The album title is an acronym of EDITORS and BLANCK MASS but also a knowing reference to Electronic Body Music, the potent sound that originated in the 1980s and which has hugely influenced EDITORS' new material, where the synths of bands like NITZER EBB, FRONT 242 and DAF hammer darkly amongst smoke machines, strobe lights, and the smell of leather.
Power's addition to the band meant that, for the first time, the song structures weren't coming from front man Tom Smith, with him and further band members Justin Lockey, Elliott Williams, Russell Leetch, and Ed Lay receiving files to tinker with and flesh out in the studio when they eventually regrouped. "Ben has certainly been a shot of adrenaline in our creative process," says Tom. "The songs are so immediate and in your face."
A follow-up to 'Heart Attack', 'Karma Climb' serves as a second preview to the album - the band's seventh - and is a stomping track that pairs ghostly atmospherics with stadium-level anthemia. Speaking on the new single, Tom comments: "It's about hedonistic escapism, not only from the world generally but also from what people think of you." The single is accompanied by a dynamic live video.
The six-piece have also announced a UK and European tour for 2023. Known for their compelling live presence, the tour offers EDITORS the chance to test these new tracks in the live spaces for which they were intended, as Power explains: "There is a strong physicality to this record. EBM started its life with the intention of connecting with people and filling a very physical space. There is also however an emotional physicality running throughout; An urgency and a sense of panic. An unease. Even in its more tender moments, there is a yearning for connection."
German Tour Dates

09 Oct 2023 – Hamburg, Edel Optics Arena
10 Oct 2023 – Leipzig, Haus Auensee
13 Oct 2023 – Berlin, Max-Schmeling-Halle
23 Oct 2023 – Munich, Zenith
24 Oct 2023 – Düsseldorf, Mitsubishi Electric Halle
Additional Concert Info

Doors: tba
Start: 20:00
Tickets: are available from 54.65 euros (plus charges pre-sale) via
Eventim
Info: https://www.mitsubishi-electric-halle.de/event/editors-24-10-2022