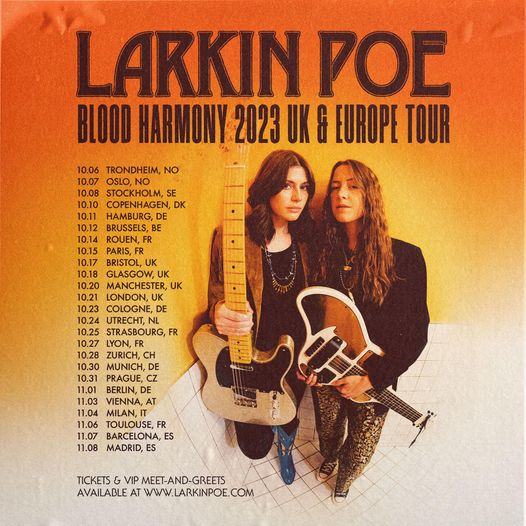 The Grammy Award-nominated sister duo announce major UK/European tour for 2023! Germany concerts in Hamburg, Cologne, Munich and Berlin in autumn. Ticket pre-sale started on Nov 17, 2022.
Following the release of their critically acclaimed new album 'Blood Harmony', which is battling for a top 20 spot in the UK Singles Chart, Grammy Award-nominated sister duo LARKIN POE are now revealing details of a major UK and European tour, which begins in October 2023.
On this tour, LARKIN POE - Georgia-native, Nashville-based multi-instrumentalists Rebecca and Megan Lovell - will increase capacity at many venues compared to their last visit this summer. In May 2022, they played a sold-out show at London's O2 Shepherd's Bush Empire where they had a surprise guest appearance from Keith Urban. The new tour will see them headlining the much larger Roundhouse in London on October 21. In Germany, there are four concerts in the tour schedule, which will bring LARKIN POE to the following venues: on October 11 to Hamburg at the Große Freiheit 36, on October 23 to Cologne at the E-Werk, on October 30 to Munich at the Circus Krone and on November 1 to Berlin at the Huxleys.
Rebecca and Megan Lovell commented: "UK & European music lovers, the time has come - LET'S MAKE A DATE TO ROCK! We're so excited to be back on the road in support of our 'Blood Harmony' album, get yours now your tickets and we'll see you in 2023."
LARKIN POE kick off 2023 with an extensive North American tour lasting through early April, followed by further dates in Australia and New Zealand. Visit their website https://www.larkinpoe.com/tour for more information. The tour is the first opportunity for fans across the UK and Europe to experience the new album 'Blood Harmony' live as part of the headline shows. The album reaffirms the duo as a key force in shaping the identity of Southern Rock'n'Roll, infusing the genre with new energy, both with a forward-thinking perspective and a decidedly feminine strength.
LARKIN POE co-produced the new album with Tyler Bryant (Rebecca's husband). Megan is on vocals, lap steel and resonator guitar, and Rebecca is on guitar and keys. They've also brought in members of their long-time live band, including drummer Kevin McGowan and bassist Tarka Layman. The result is an electrifying new work that fully showcases the fiery vitality they have displayed on their tours around the globe, infusing their songs with equal parts soulful sensibility and rousing ferocity. From the fevered guitar work of 'Bad Spell' to the rousing 'Southern Comfort' and the blistering title track 'Blood Harmony', it's a band that taps into their powerful intuition and underpins their stories with a blues-heavy sound that goes straight to the heart of the matter heart hits.
German Tour Dates

Oct 11, 2023 Hamburg - Große Freiheit 36
Oct 23, 2023 Cologne - E-Werk
Oct 30, 2023 Munich - Circus Krone
Nov 1, 2023 Berlin – Huxleys
Tickets

myticket.de and CTS
Eventim
pre-sale: Thursday, Nov 17, 2022, 10:00 a.m.
General ticket pre-sale: Friday, Nov 18, 2022, 10:00 a.m.
Tickets online: www.myticket.de
Tickets hotline: +49 40-23 72 400 30 (Monday - Friday: 10:00 a.m. – 06:00 p.m. / Saturday: 09:00 a.m. – 01:00 p.m.)
and at the well-known ticket offices.