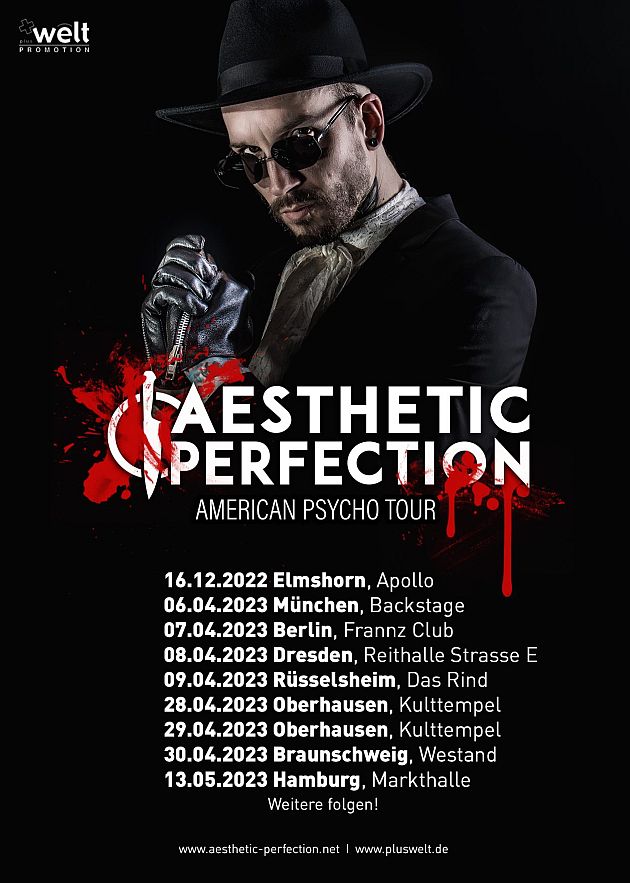 Markthalle, Hamburg, Germany
13th May 2023
Aesthetic Perfection - "American Psycho Tour" - plus special guests

AESTHETIC PERFECTION is a 100% independent Industrial Pop project consisting of Los Angeles-born producer Daniel Graves and New York City-based drummer Joe Letz. In their 20-year career, after six albums and numerous singles and music videos, Graves and his crew have reinvented Dark Electro by combining Industrial, Pop and everything in between.
Although mainstream audiences haven't had them on their radar for decades, AESTHETIC PERFECTION are no strangers to the music world: the band has played countless sold-out shows in Europe and America. Their success on smaller stages has also prepared them for their latest adventure: supporting Till Lindemann (RAMMSTEIN) on his 2020 tour with his side project LINDEMANN.
In addition to numerous collaborations such as with Richard Z. Kruspe (RAMMSTEIN), Jinxx (BLACK VEIL BRIDES), CELLDWELLER, Nikki Misery (NEW YEAR'S DAY) and Sebastian Svalland (PAIN / LINDEMANN), they have also had songs featured in a Netflix programme and films, as well as in the soundtrack to 'The Underworld: Awakening'.
The instability of the music business during the Corona pandemic eventually led to the "12 Singles in 12 Months" project. The project released a total of 12 singles, the last of which, 'Lonesome Ghosts', was released on 3 December 2021. With their latest album, 'Into the Black', and the 12 new songs under their belt, the band is ready to bring the message of Industrial Pop to an even wider audience.
Additional Concert Info

Doors: 19:00
Start: 20:00
Tickets: are available for 35.55 euros (plus charges pre-sale) via
Eventim
Facebook Event: https://www.facebook.com/events/297681592081216