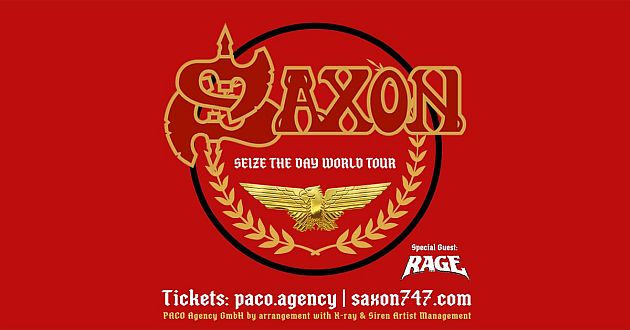 Alter Schlachthof, Dresden, Germany
17th March 2023
Saxon - "Seize the Day World Tour 2023" - Special Guest: Rage

SAXON are back - stronger than before! Due to the immense demand they are giving eight additional shows in March 2023 in Germany and Austria! The legend of NWOHBM comes with full power and full roar - SAXON, the epitome of British Heavy Metal! The tough gentlemen are definitely not old-fashioned: they stand on stage with an irrepressible and fresh joy of playing and make the hearts of their fans beat faster SAXON have been playing incredible live concerts since 1979 and through that and of course their total devotion to their fans, SAXON have cemented their status and continue to push it up a notch.
With 24 studio albums they have kept their career dynamic and are rightly considered pioneers of New Wave Of Heavy British Metal who are still role models for other bands. They get stronger with every tour and can offer a lot from the 24 studio albums of their career: Classics like 'Princess of The Night', 'Heavy Metal Thunder', 'Strong Arm of The Law', the indestructible 'Wheels of Steels' and the mighty '747 (Strangers In The Night)'. 'Thunderboldt' and 'Denim & Leather' are also celebrated and of course Biff Byford, Paul Quinn, Nigel Glockler, Nibbs Carter and Doug Scarrat will also ignite grenades from their current chart-topping album 'Carpe Diem'. Rarely have you seen SAXON so hard as a hammer and bursting with power. Songs like the title track, 'Carpe Diem (Seize The Day)' or the epic 'The Pilgrimage' or the dynamic 'Dambusters' ignite instantly - just like the old classics. Biff and his cronies still stir up every festival and heat up the hall when they storm the stages! Heavy Metal must be a fountain of youth!
The German Metal veterans of RAGE, who have been friends with SAXON for over 30 years, will be there as support. In addition to songs from their current album, the guys around Peavy Wagner will definitely also have their classics like 'Don't Fear The Winter' or 'Straight To Hell' in their luggage to really heat up the fans. When Byford during the powerful concerts alternately slips on Metal cowls that are thrown onto the stage by fans, it has glamor and glory. It is not for nothing that SAXON patches are mandatory and that no leather or denim jacket would be unimaginable without them. Not only a MUST, but also a concert visit that you can draw on for a long time!
Additional Concert Info

Doors: 19:00
Start: 20:00
Tickets: can be bought for 54.90 + charges (pre-sale) via
Eventim
Info: https://www.alter-schlachthof.de/konzerte/3219/Saxon
Facebook Event: https://www.facebook.com/events/1512611455901954