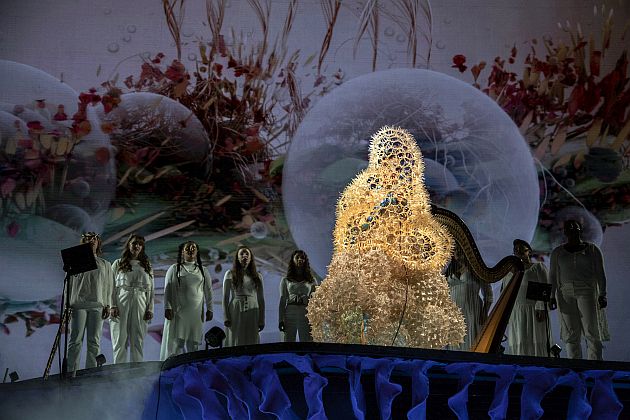 "Cornucopia" was conceived as a residency show at New York's The Shed following BJÖRK's latest album 'Utopia' and received rave reviews. Rolling Stone commented that it was a "spectacle of innovative sound and visuals". The new "Cornucopia" show is the original stage show and catalog of music enhanced with the music from their latest Grammy nominated album 'Fossora'. "Cornucopia was always meant to be the world for 'Utopia' and the album that followed it, now called 'Fossora'. So I'm really looking forward to those two worlds colliding in Europe this fall." - Björk
"Cornucopia" includes digital visuals by media artist Tobias Gremmler, Andy Huang, Nick Knight, M/M, a set design by Chiara Stephenson, flute septet Viibra, clarinetists, a harp player, percussion, electronics and an array of bespoke instruments set in the innovative surround sound stage design are integrated, including a special reverberation chamber.
German dates

Nov 21, 2023 - Hamburg, Barclays Arena
Nov 24, 2023 - Leipzig, QUARTERBACK Immobilien ARENA
Tickets

Tickets are available from February 3, 2023 at 9:00 a.m. at a price of EUR 63.00 - 93.00 plus fees exclusively at
Eventim
. The tickets for BJÖRK are only sold personalized. Personalized means that each ticket is linked to only one person who is named on it. This person is the owner of the right to visit and only this person has access to the event. There is a limit to a maximum of six tickets per customer. The personalization of the tickets and the limited number of tickets are done for reasons of fairness and to avoid a secondary market where the tickets are often offered at inflated prices. This special and conscious regulation of advance sales is intended to give as many fans as possible the opportunity to purchase tickets at fair prices. The official online presale is handled exclusively via eventim.de, all other ticket providers who offer tickets for sale are NON-AUTHORIZED providers.
Find more information and music here

www.bjorktour.com / www.instagram.com/bjork /www.facebook.com/bjork ///www.youtube.com/@Bjork">www.youtube.com/@Bjork>
Photo by Santiago Felipe