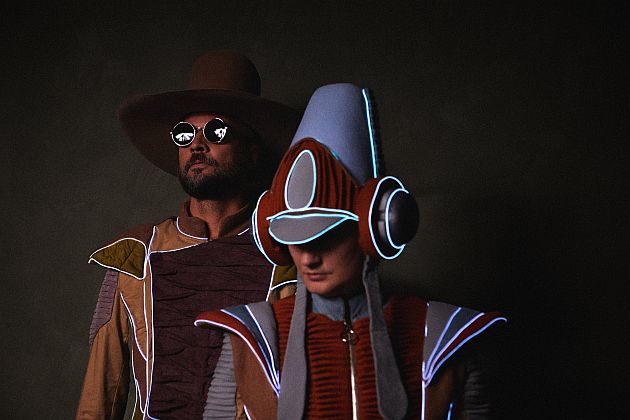 Spektrum, Oslo, Norway
25th February 2023
Röyksopp

In February, RÖYKSOPP finally returns to the stage at Oslo Spektrum for a rare concert experience! 'Melody AM' (2001) made RÖYKSOPP a star both nationally in Norway and internationally, proving that electronic music belongs both inside and outside the club. The singles 'Eple' and 'Poor Leno' with Erlend Øye still stand as iconic moments in Norwegian music history, and the unique mix of Electronica, House, R&B and Pop makes them one of the country's biggest music exports.
The many unforgettable collaborations with guest vocalists have become a regular occurrence, and voices such as Anneli Drecker, Karin Dreijer (THE KNIFE), Robyn, Lykke Li, Susanne Sundfør and Alison Goldfrapp are among those who have left their mark on RÖYKSOPP's unmistakable soundscape. After successes such as 'The Understanding' (2005), 'Junior' (2009), 'Senior' (2009) and 'The Inevitable End', which was apparently supposed to be the end of the adventure, they made a comeback with no less than three records in 2022.
'Profound Mysteries I, II & III' is the start of a new chapter - RÖYKSOPP in full colour. The first part of the trilogy was released in April as a comprehensive audio-visual experience with music, film, an interactive visualizer, secret CDs and, an impressive guest list on the vocal front to say the least. The sound of RÖYKSOPP today is fuller, more detailed and exploratory, but not without the duo's distinct imprint.
The second act offers, among other things, the unforgettable 'Let's Get It Right' with Astrid S and 'Unity' with Karen Harding. In his review of the album in Bergens Tidende, music critic Joakim Randa pointed out that 'Profound Mysteries II' had obvious similarities with 'Melody A.M.', but as "in an alternative universe". In other words, it doesn't matter if you're an old fan or a new one, RÖYKSOPP constantly produces music that moves both body and soul.
"With 'True Electric' we want to bring the pure and immersive RÖYKSOPP experience of our studio productions to the live stage. This means synths, samplers & sequencers, in a performance where the hero of the show is the music itself. Expect an eclectic set where energetic beats meet vast, transcending soundscapes. True electric - what it says on the tin." – RÖYKSOPP
On February 25, RÖYKSOPP transforms the all-absorbing universe of 'Profound Mysteries' into a live format. Join the winter's biggest music experience in Oslo Spektrum!
Additional Concert Info

Doors: 18:30
Start: 19:30
Tickets: are available from 510.00 NOK via
Ticketmaster
Facebook Event: https://www.facebook.com/events/648130690251851