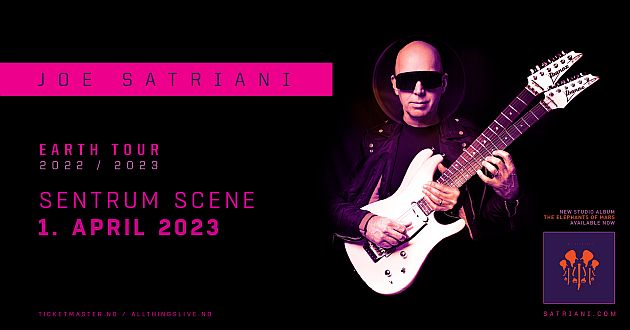 Sentrum Scene, Oslo, Norway
1st April 2023
Joe Satriani - "Earth 2022 - 2023 Tour"

With his distinctive sound and characteristic instrumental music, he has inspired and captivated guitarists and music lovers worldwide, both as a solo artist and with his G3 guitar extravaganza project. In 2023, he embarks on the JOE SATRIANI "Earth Tour" and visits Oslo on April 1st, 2023. Satriani will perform songs from his latest album release 'The Elephants of Mars' (2022) as well as classic fan favourites such as 'Surfing With The Alien', 'Cherry Blossoms', 'Always with Me, Always with You' and 'Flying In A Blue Dream'.


Including last year's release, JOE SATRIANI has 19 albums on his conscience since his debut in 1986 and with over 10 million albums sold and 15 Grammy nominations, it is not without reason that JOE SATRIANI is referred to as one of the greatest guitarists of our time. The big breakthrough came with the sequel 'Surfing with the Alien' in 1987, and since then the success has established him as a guitar hero. With 'The Extremist', which he released in 1992, he spent an impressive 28 weeks on the renowned Billboard 200 list.

Additional Concert Info
Doors: 19:00
Start: tba
Tickets: are available for 490NOK via https://www.ticketmaster.no/event/623047
Club Joe VIP Add-On Packages available for the Ultimate Joe Satriani Experience: https://clubjoe.satriani.com
Info: https://rockefeller.no/
Facebook Event: https://www.facebook.com/events/698397633985748