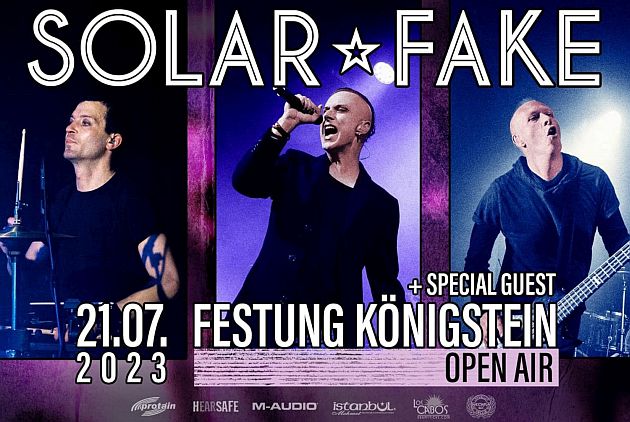 Festung Königstein, Königstein, Germany
21rst June 2023
Solar Fake - Support: Future Lied To Us

On 21st July 2023 SOLAR FAKE will play a full-time summer concert at the impressive Königstein Fortress near Dresden in Saxony. But Sven Friedrich, André Feller and Jens Halbauer will not come alone. So, look forward to a great evening with SOLAR FAKE & FUTURE LIED TO US, high up on the majestic castle, with a unique panorama! It will still be a while, but you should get your tickets now. All concert tickets include travel to and from the Oberelbe transport network (between 2 p.m. on the day of the concert and 4 a.m. on the following day). Reduced tickets are available for children and young people between the ages of 6 and 14.
SOLAR FAKE was founded in 2007 as Synth Pop / Industrial / Indie-Electro solo act of vocalist and multi-instrumentalist Sven Friedrich (ZERAPHINE, Ex-DREADFUL SHADOWS). The debut album 'Broken Grid' was released in 2008 followed by another five studio records. With their latest album 'Enjoy Dystopia' (2021) they had their highest chart-entry ever on #4. Now André Feller (live keyboard and bass) and Jens Halbauer (live drums) complete the band. SOLAR FAKE´s high energetic and emotional shows are always a great delight and one of the best ways to spend a weekend. Sven Friedrich is concentrating this year on the production of the upcoming album, which is expected to be released in autumn. Therefore, there will only be a few concerts by the band in 2023, but they will be very special highlights! And who knows, maybe one or the other new song will make it onto the setlist.
FUTURE LIED TO US will enter the stage in the Kasemattenhof at a height of 247m as special guest. After Tom Lesdzenski ([:SITD:]) left the band in winter 2020 it was not clear, if and how the band would continue. But part of the idea of FUTURE LIED TO US has always been to surmount the future and create a new one. And so Vasi Valis (FROZEN PLASMA) and Krischan Jan-Eric Wesenberg (ROTER SAND) introduced Damasius Venys (MENTAL EXILE) as a new band member and singer in December 2021. The spherical beats and rich and catchy sounds of FUTURE LIED TO US go straight into the heart, emotional and, above all, danceable.
Additional Concert Info
Doors: 18:15
Start: 19:15
Tickets: are available for 41.25 euros (plus charges) via
Eventim
Facebook Event: https://www.facebook.com/events/5757734757625197/
Info: www.festungkoenigsteinopenair.de