Lahr, Germany
22nd April 2006
Live: Covenant, Kirlian Camera, Diorama, Faun, Klangstabil, Soman, Noisuf-X-X

The 17th Dark-Dance-Treffen (Dark-Dance-Meeting) takes place on 22nd April 2006 again in Lahr. The festival features 7 live acts and 10 DJs on 5 floors. Doors open at 19:00.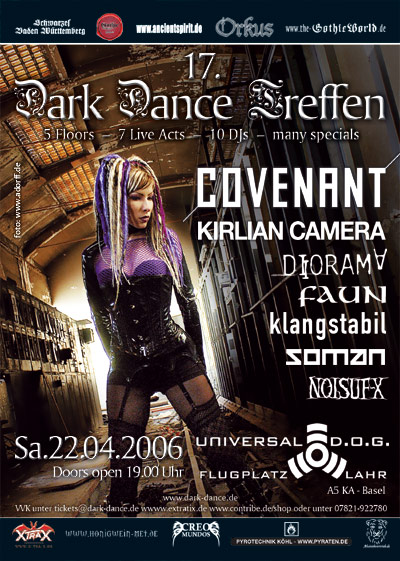 Overview Floors

Dark Dance Floor
DJ Martin Sprissler (Gothic Magazine - Extreme Clubhits)
DJ Metatron (Gothic Witch - Kulturruine Karlsruhe)
LIVE: COVENANT, KIRLIAN CAMERA, DIORAMA, FAUN

Maschinenraum
DJ Lecter (Elementz of Darkness - Helter Skelter)
DJ Frank `D Angelo (Pro Noise - Industrialisation)
LIVE: KLANGSTABIL, SOMAN, NOISUF-X-X

Depeche Mode/Electro-Pop Floor
DJ Gillian (Elixier - Dark Dance Club)
DJ Sven (Psychiatrie Achern)

Veitztanz Floor
DJ Falk (Saltatio Mortis)
DJ Lasterbalk (Saltatio Mortis)

Gothic/Batcave Floor
DJ Falko (Crash Freiburg)
DJ Ghoulshaker (Kulturruine Karlsruhe)
Additional Information


There will also be lots of specials around which make the atmosphere of the Dark-Dance-Treffen very special:
- champagne reception
- special decoration
- photo exhibition of Thomas Adorff (on of our RoD photographers:
www.adorff.de
) - big Dark Dance Market with lots of stands
- Pyro and Fire show by Pyraten
- Met and Absinth bar
… and some other surprises.
Tickets


Advance booking: 18 Euro + Advance booking fee
Box-office: 22 Euro
Tickets online:
This email address is being protected from spambots. You need JavaScript enabled to view it.
(also for foreign customers!),
www.extratix.de
,
www.contribe.de/shop
Ticket hotline: +49-7821 / 922780
Tickets in Switzerland: Jan Tel. +41-76-5438729 or E-Mail:
This email address is being protected from spambots. You need JavaScript enabled to view it.
Tickets in France: FNAC or DM-Shop Strasbourg (
www.dmshop.fr.st
)
More Information


www.dark-dance.de