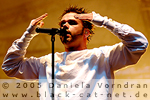 The members of the OOMPH!-DAY team have recovered from the Oomph!-Week back in March and are now ready for more action! While Oomph! are going to tour Germany in May they will play a gig in Cologne on 27th May 2006 at the Live Music Hall and they will definitely put you in the right mood for the official After-Show-Party / Fanmeeting on 27th May 2006 at the club "Access all Area" in Cologne presented by www.oomph-day.com
De facto all visitors will have a chance to access all area and have a look behind the scenes of the party. For the first time Oomph!-Day will show you exclusive backstage impressions from previous events on a large screen. Another good reason for a big celebration is the fact that after midnight the Oomph! band member Crap is growing older by another year. Maybe you even get the chance to congratulate him personally as the band is expected to drop in.

Last but not least a number of well-known DJ's will raise the dancefloor's temperature plus all visitors of the Oomph! gig will get a welcome-drink when showing their ticket at the entrance.

The tickets for the official After Show Party are available on advance sale/4 EUR or at the box office/6 EUR. It is recommended to book the tickets in advance as the party is expected to be sold out soon. For more information:
www.oomph-day.com
I hope that some of you have the chance to come to Germany for this event. Should you have any questions or need assistance with travel arrangements, please let me know!

Alice in Pain
Promotion Oomph!-Day