Kulturpark, Deutzen, Germany
2nd to 4th September 2011
Nocturnal Culture Night 6: VNV Nation, Kirlian Camera, DAF, Fixmer/McCarthy, 32 Crash, Klangstabil, SITD, Krypteria, Staubkind, Absolute Body Control, Tyske Ludder, Gothminister, Whispers In The Shadow, Persephone and many, many more

It is always at the farthest end of the festival season in autumn when a little festival takes place that over the years has gained considerable recognition amongst dark music lovers: The Nocturnal Culture Night (NCN) festival.


In 2011, it is taking place for the 6th time inside the boundaries of the picturesque landscape of the culture park in a little place called Deutzen (near Leipzig). It's not only the familiarity of the atmosphere that has shaped its reputation, moreover it is the vast assortment of bands the organizers come up with every year anew that differs quite a bit from the usual. That starts already with one of the headlining acts of this year's festival, KIRLIAN CAMERA, most certainly brining a truly exceptional show to the stage, presenting new material from their forthcoming album as well.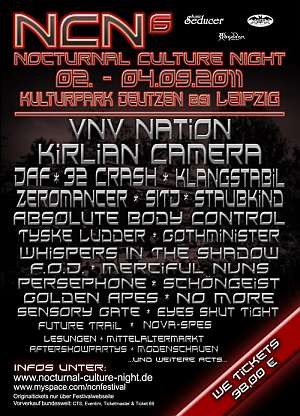 FIXMER/MCCARTHY have rarely been seen live these days, so if you're up for some modern, EBM-tinged songs and sound you better be there when the two are on stage at NCN. KLANGSTABIL are another of these extraordinary formations, bringing emotions to life, literally, when performing. MERCIFUL NUNS are the legitimate successor to one of the scene's pioneering acts, Seth Artaud's GARDEN OF DELIGHT treating you to classic Goth rock in a modern shape. One of last year's surprises SENSORY GATE has been able to secure themselves a slot on the 2011 edition of Nocturnal Culture Night festival as well and surely will be acquiring a few more fans this time with their special blend of organic electronic music.

Apart from the music there's, as always, a social program as well, including the traditional medieval market, readings and more that will make the festival a complete experience for all senses.


Billing

Friday: Golden Apes, Kirlian Camera, No More, SITD, Tyske Ludder, Whispers In The Shadows
Saturday: 32 Crash, Absolute Body Control, Elane, F.O.D., Klangstabil, Merciful Nuns, Schöngeist
Sunday: Blind Passenger, DAF, Eyes Shut Tight, Future Trail, Fixmer / McCarthy, Krypteria, Nova-spes, Persephone, Staubkind, VNV Nation
More bands to be announced


Tickets

Original tickets can be obtained exclusively at the online shop on the festival website at the following conditions:

1.Day Tickets for Friday, Saturday, or Sunday each 30,- €
Festival Tickets including Camping: 41 €
Festival Tickets without Camping: 38 €

Regular tickets are available online the following ticket shops like http://www.ticket69.de/, http://www.getgo.de/, http://www.eventim.de/, http://www.arena-ticket.com/ and http://www.ticketmaster.de/

Further Information is available at: http://www.nocturnal-culture-night.de/