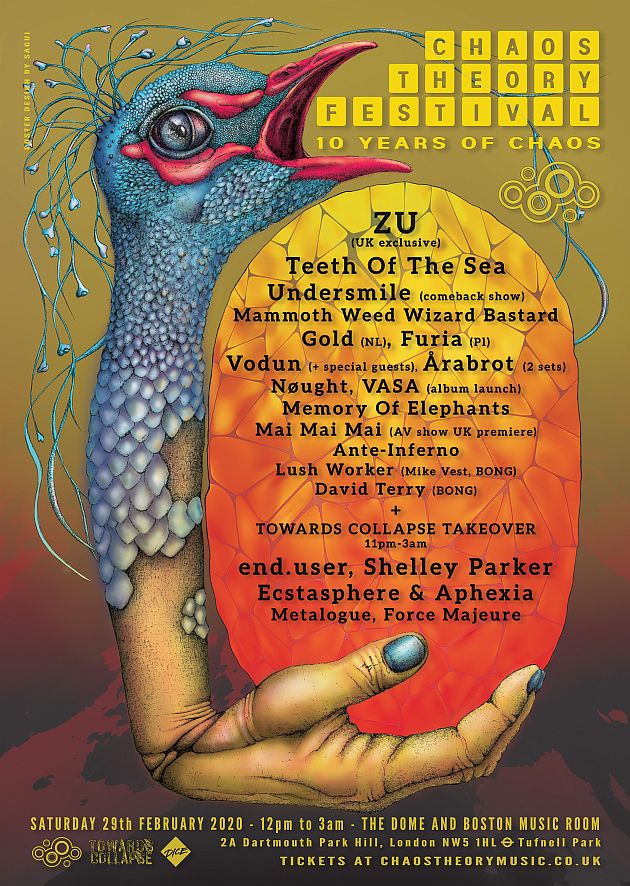 Boston Music Room and the Tufnell Park Dome, Tufnell Park, London, UK
29th February 2020
Chaos Theory Festival 2020 ZU, Teeth Of The Sea, Undersmile, Mammoth Weed Wizard Bastard, Gold, Furia, Vodun and many more

Back in the early part of 2010 Kunal Singh was an avid gig attendee. Most of the new music that he discovered back then was discovered that way. He realised that the easiest way to connect with new musical ideas was to get out there and see the artists performing live! The aural and the visual experience was and still is equally important. But back then there was also an element of dissatisfaction with the opportunities available to artists so the idea formed to start a record label to promote new music. That quickly encompassed live music promotion. Chaos Theory was born!
Over the years, events have been put on at various venues around London including The Devonshire Arms, The Black Heart Camden, The Oslo in Hackney and The Hoxton Gallery. And artists promoted include the likes of JARBOE (SWANS) HELEN MONEY, STEREO JUGGERNAUT, MASTIFF and CORE OF IO. Whatever your tastes, obscure or highbrow, heavy or ambient, experimental or otherwise, there is always something to wet the music whistle…
The Chaos Theory Festival: 10 Years Of Chaos will be held on the 29th February at The Dome and Boston Music Room in London to celebrate 10 years of hard but enjoyable work. It will show how far Kunal and his team have come in the past decade and hopefully set the tone for another productive 10 years going forward. The festival will showcase the talents of 20+ bands over 15 hours, the majority of which I have either not heard of or have minimal exposure to. For example, I have some knowledge of ARABROT and FURIA but I'd like to add to that exposure by seeing them play within the live context. Other artists such as TEETH OF THE SEA, VODUN, MEMORY OF Elephants and MAI MAI MAI will be new to my ears and possibly to the ears of others. But whether you are a seasoned Chaos Theory attendee or a Chaos virgin hopefully you will come away from this festival with brand new imprints on your grey matter that'll play around like tunes in a Juke Box stuck in a loop…
Chaos Theory Festival starts at 12pm on the 29th February and finishes at 3am on the 1st of March.
Travel Information

Tufnell Park Tube is on the Northern Line and is across the road from the venue.
Buses that run through Tufnell Park: 4, 390, 134 and N20
Line-Up

ZU, Teeth Of The Sea, Undersmile, Mammoth Weed Wizard Bastard, Gold, Furia, Vodun, Arabrot, Naught, VASA, Memory Of Elephants, Mai Mai Mai, Ante-Inferno, Lush Worker, David Terry, Towards Collapse Takeover, end.user, Shelley Parker, Ectosphere & Aphexia, Metalogue, Force Majeure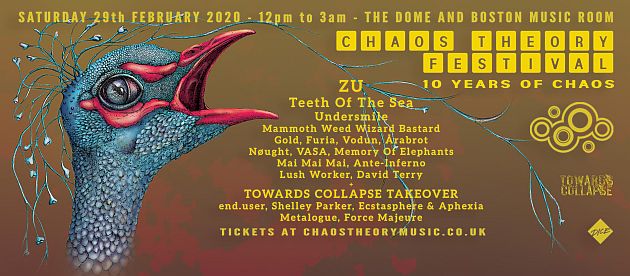 Tickets

Tickets for the Chaos Theory Festival can be purchased from Dice via this link: https://link.dice.fm/XRCPXWtleW
Dice is a mobile app for Android and IPhone and you ticket will be securely stored on your phone. If you need any advice on ticketing or other matters please go to the Dice website via the above link, click the 3 horizontal arrows top left and then see the options available.
Prices
Super Early Bird - £10.50 [Sold Out]
Early Bird - £15.50 [Sold Out]
First Release (12-11pm) - £28 [Sold Out]
Main Festival Ticket (12-11pm) - £35
Towards Collapse Takeover Add-On (11pm-3am) - £6.50 [For Use In Addition To Festival Ticket]
£40 on the door
14+ with 14–16 needing to be accompanied by an adult. They will need photo ID to prove they are over 14 or venue will refuse entry.
Links

https://www.facebook.com/ChaosTheoryLondon/
https://www.facebook.com/events/2027020767603675/
https://link.dice.fm/XRCPXWtleW
http://chaostheorymusic.co.uk/
https://www.youtube.com/user/ChaosTheoryPromo