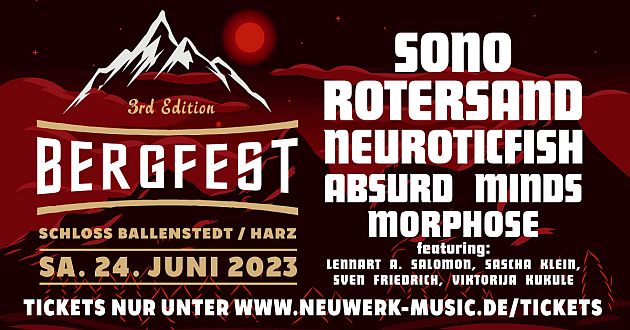 Ballenstedt Castle, Ballenstedt / Harz, Germany
24th June 2023
Bergfest 2023 with Sono, Rotersand, Neuroticfish, Absurd Minds, Morphose feat. Lennart A. Salomon, Sascha Klein, Sven Friedrich, Viktorija Kukule

After a year in Magdeburg, the Bergfest returns to the Harz Mountains. Unfortunately, the beloved Bergtheater in Thale is still being redeveloped. But with Ballenstedt Castle, the promoters have found a truly memorable venue with a spectacular setting and an intimate atmosphere. As far as the selection of the bands is concerned, the decision was made again in 2023 to counteract the often-repetitive classic headliners with a coherent and high-quality line up.
With MORPHOSE we have one of the most impressive newcomers of recent times. The list of contributors like Lennart A. Salomon (SONO), Viktorija Kukule, Sascha Klein (NEUROTICFISH) or Sven Friedrich (SOLAR FAKE / ZERAPHINE) is top-class and promises the best entertainment. And there is not much to say about ABSURD MINDS, NEUROTICFISH, ROTERSAND & SONO. For years they have all been among the highlights of various scene festivals. Just to mention, that SONO released recently their fifth album 'In The Haze and ROTERSAND came up this year with the singles 'Higher Ground' and 'Forgotten Daydreams'.
MORPHOSE will release the first single 'All Comes Back To You' feat. Sven Friedrich from the upcoming album 'The Open Shutter' on 19th May and NEUROTICFISH are working also on new material and plan to release the new album 'The Demystification Of The Human Heart' to release this year. So, we have an awesome location, five top class acts and the chance to visit one of the most beautiful nature reserves in the world. Tickets are limited to a number of only 700, so you should get yours fast!
Additional Festival Info
Doors: 15:30
Start: 16:30
Tickets: available for 59.50 euros only via
https://www.deinetickets.de/shop/neuwerk/de/start/?g=752&e=1
Facebook Event: https://www.facebook.com/events/1349263472510658/
See also (all categories):