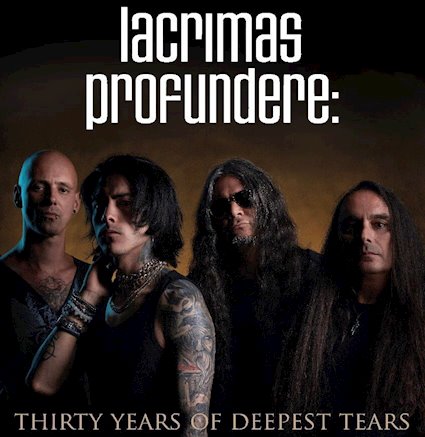 Who still remembers VIVAplus, MTV Headbangers Ball, BAM's Unholy Union, the ZDF crime thriller Nachtschicht, iMusic Rocks, PARADISE LOST's 'Icon'? It's 1993, CARCASS release 'Heartwork', TYPE O NEGATIVE 'Bloody Kisses', SEPULTURA 'Chaos A.D', actually the perfect time to start a Doom Death Metal band as brothers. In addition to the TV channels mentioned at the beginning, where the band was able to place clips again and again, they toured through 33 countries by now and numerous albums made it directly into the German charts.
When the planning for 2023 began, the guys asked themselves whether they could take the risk of doing another headlining tour, even though they had already toured extensively last year. On the other hand, how could they celebrate the 30th anniversary of the band without being together with the people who made it all possible, the fans? Soon the idea was born to play again as headliner under the motto "THIRTY YEARS OF DEEPEST TEARS" in some selected cities, inspired by the success of the last two tours and the excellent reviews of the current album.
With an impressive 115,000 monthly listeners on Spotify alone, LACRIMAS PROFUNDERE have arrived as the most successful German Dark Metal band of the moment, and even after 30 years, times have never been better for the band. Frontman Julian Larre also plays a big part in this. With his unique charisma, unmistakable voice and energetic stage show, he turns every concert into a unique, action-packed live show, always supported by the experienced men Dominik, Olly and Ilker.
30 years is a long time, but for LACRIMAS PROFUNDERE it's only just beginning. So let's dive into the dark night together from May 2023 and show what beauty can be inherent in gruelling melancholy, because then LACRIMAS PROFUNDERE invite their fans and companions to celebrate the band's anniversary together in several German cities, reminisce and set off bombastic musical fireworks from 30 years of band history!
Tickets are now available in the NoCut Shop and at
Eventim
.
Lacrimas Profundere are
Julian Larre (Vocals)
Oliver Nikolas Schmid (Guitar)
Dominik Scholz (Drums)
Ilker Ersin (Bass)
Homepage: www.lacrimas.com
Tour Dates

12.05.23 – Kammgarn, Kaiserslautern
10.06.23 – Club Zentral, Stuttgart
30.06.23 – Frankfurt, Nachtleben
07.09.23 – Hamburg, Logo
08.09.23 – Oberhausen, Kulttempel
09.09.23 – Hannover, Subkultur
10.09.23 – Berlin, Cassiopeia
See also (all categories):