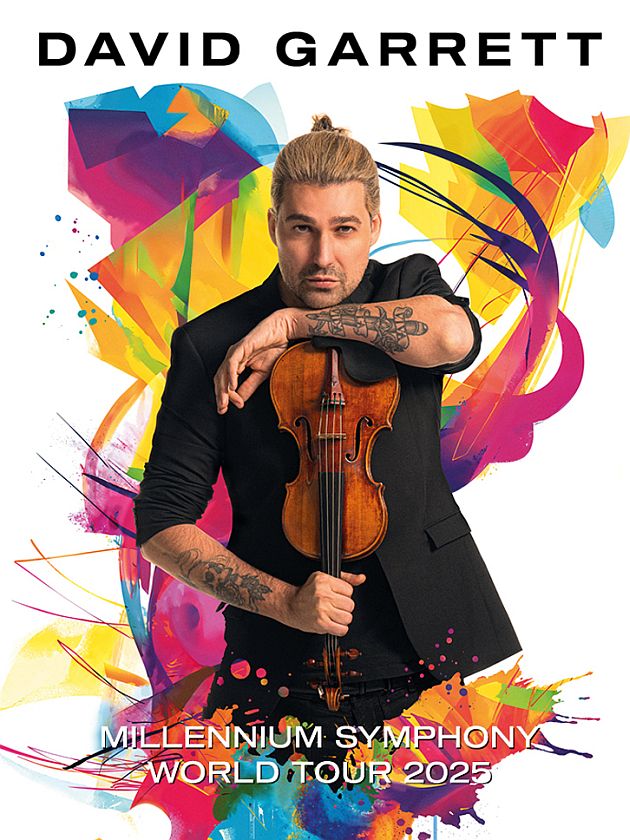 Kuppelsaal at HCC, Hanover, Germany
10th April 2024
David Garrett Trio - "Iconic Tour 2024"

'Iconic', DAVID GARRETT's latest album, is inspired by those legendary violinists whose brilliant pieces and soulful melodies inspired him as a child. He plays music by VIVALDI, DVORÁK, GLUCK, KREISLER, RAFF, MOZART and SCHUMANN, among others, in new arrangements. For this wonderful project, the star violinist was awarded the OPUS Klassik as "Bestseller of the Year" and a Golden Record for his 'Iconic'album. After the overwhelming success of his "Iconic Ttour" in 2023 with 75 concerts in 23 countries, the star violinist will give further exclusive concerts in Germany and Austria in the trio in 2024.
With his individual selection of pieces, DAVID GARRETT recalls the Golden Age of violin virtuosos - artists such as JASCHA HEIFETZ, FRITZ KREISLER, and YEHUDI MENUHIN, who enchanted him. The young musician admired them and others and wanted to emulate them artistically, so he immersed himself in their epochal recordings. After the outstanding success of the classical programme with more than thirty sold-out concerts in the most important concert halls in German-speaking countries and more than 70,000 tickets sold, his fans can now look forward to further performances by the artist. DAVID GARRETT will be accompanied by guitarists FRANCK VAN DER HEIJDEN and ROGIER VAN WEGBERG on bass.
David Garrett - the exceptional talent on the violin
GARRETT received his first violin at the age of four and had lessons with ZAHKAR BRON and IDA HAENDEL, among others. His extraordinary, versatile talent was recognized at an early age: A child prodigy, DAVID GARRETT made his stage debut at the age of ten and at 13 became the youngest artist ever to be signed to the prestigious Deutsche Grammophon. As a child, he worked with conducting legends such as ZUBIN MEHTA, CLAUDIO ABBADO, and YEHUDI MENUHIN. At the age of only 15, he recorded all 24 of PAGANINI'S caprices - undoubtedly some of the most demanding pieces ever written for the violin. YEHUDI MENUHIN even praised him as "the greatest violinist of his generation". It was precisely at this point in his career that he decided to refine and expand his skills and enrolled at the world-famous Juilliard School in New York: he became a student of ITZHAK PERLMAN.
To this day, DAVID GARRETT works with the most extraordinary conductors in the classical field, such as ZUBIN MEHTA, CHRISTOPH ESCHENBACH, RICCARDO CHAILLY, and ANDRÉS OROZCO-ESTRADA. Over the past two decades, he has performed with many of the world's leading orchestras and conductors, reaching new audiences internationally with rock ballads, classical sonatas, solo bravura numbers, and film scores. His autobiography "If You Knew" describes his sometimes-rocky path from child prodigy to successful artist. GARRETT has already been awarded 26 gold and 17 platinum records, the European Culture Award, five ECHO Klassik, and four ECHO Pop trophies, and he has sold over 4.5 million records to date.
The album 'Iconic' as GARRETT'S heart project
"Unfortunately, for some decades now, violinists have been playing some of the short pieces that the greats of the 1920s and 1930s performed in their concerts less and less often, yet they remain immediately in one's memory," says GARRETT. "It means all the more to me, therefore, that my ICONIC programme has been so well received and that I now have another opportunity to bring all these beautiful pieces back to life."
The album features GARRETT with ANDREA BOCELLI in a sublime arrangement of SCHUBERT's 'Ave Maria', with ITZHAK PERLMAN in SHOSTAKOVICH's 'Praeludium, with Japanese flutist COCOMI in DEBUSSY's 'La fille aux cheveux de lin' and with German trumpeter TILL BRÖNNER in 'Grigora' DINICU's virtuoso hora staccato. "Pieces like these have shaped my musical thinking," says the violinist. "I've recorded many virtuoso albums myself, but this time I wanted to concentrate on the essentials, on what goes to the heart. Virtuosity is not the main focus of the works on 'Iconic'. They have beautiful melodies and bring the listener closer to what counts in life - harmony!". On tour, GARRETT presents his heart project in a trio.
Tour Dates

04.04.2024, Salzburg
06.04.2024, Innsbruck
07.04.2024, Vienna
10.04.2024, Hanover
18.04.2024, Baden-Baden
24.04.2024, Leipzig
25.04.2024, Düsseldorf
27.04.2024, Würzburg
29.04.2024, Bielefeld
30.04.2024, Kassel
02.05.2024, Dortmund
10.05.2024, Frankfurt
Additional Concert Info

Doors: 19:00
Start: 20:00
Tickets: Tickets are available from 62.00 Euros (plus Charges Pre-Sale) via
Eventim
Facebook Event:
https://www.facebook.com/events/758732996090567
See also (all categories):