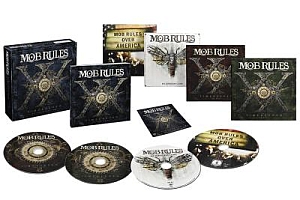 Twenty years of Mob Rules, twenty years of melodic metal from Northern Germany. The group surrounding vocalist Klaus Dirks are celebrating their big anniversary and have announced a number of notable festivities: Mob Rules are scheduled to release their boxed anniversary set Timekeeper on 10 October 2014 (Europe: 13 October 2014, US/Canada: 28 October 2014), embarking on their tour of Germany at the same time. To celebrate the release, you have the chance to win one of following prices, we are giving away in cooperation with Steamhammer/SPV:
1x "Timekeeper" Box-Set (4 Disc Box Set – 3CDs and 1 DVD – incl. 44 page booklet and sticker)
3x "My Kingdom Come" Single CD
If you want to win one of the prices, please send an email until 20th November 2014 with the headline "Mob Rules" to
This email address is being protected from spambots. You need JavaScript enabled to view it.
and include following information:
- Full Name
- Postal Address
Good luck!