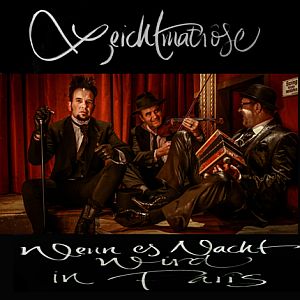 On 12th January 2018, the new
LEICHTMATROSE
single 'Wenn es Nacht wird in Paris' will be released; a new album follows in spring 2018.
We write the year 1922... "Paris", the legendary metropolis of sin, is the scene of our protagonists. And how could it be different: "it is drabbed and drunken a lot". And in the middle of it our "Matrose". The gambling nature. The "rampant" bon vivant of the first hour. The romantic who experiences it on his own body: the old song of the eternal suffering of love, of the false woman (From the whore who does not want to be saved).
Warmly welcome to 'Wenn es Nacht wird in Paris', the new single of LEICHTMATROSE which is presented in an extraordinary video. The song itself is a pop hymn, a chanson, a drama... yes, an incarnate homage to the vicious life and the wild 1920s... The song and video emerged with prominent support. On the drums, for example, sits no one less than the drummer legend Mel Gaynor of SIMPLE MINDS. In the video, for example, Charlie Steinberg, who revolutionized music production with "Cubase" and was nominated for a Grammy, plays an important guest role. Rick J. Jordan (formerly SCOOTER) was responsible for the video editing.
Source: Press Release