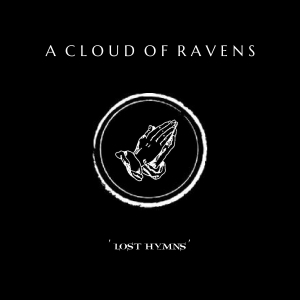 NYC-based Post Punk duo A CLOUD OF RAVENS have kicked off a string of US tour dates with UK Goth-Rock legends THE SISTERS OF MERCY in support of their recently-released 'Lost Hymns' album and on the trail of European tour dates with Swedish label-mates THEN COMES SILENCE. Mastered by ACTORS' Jason Corbett at Jacknife Sound studio, this collection of 11 tracks was released via Nexilis Records / Schubert Music Europe.
Effectively merging classic and contemporary Post-Punk and Darkwave sensibilities, their somewhat poetic use of prose and metaphor expressed the trials and joys of the world in which we now find ourselves. A CLOUD OF RAVENS' previous remix-based EP featured contributions by legendary producer John Fryer and such prominent artists as CLAN OF XYMOX, ACTORS, Chris Vrenna and RITUAL HOWLS. Earlier, the band presented their latest single 'Parable' with a video that is as foreboding as the lyrics, following dark delights 'Requiem For The Sun', 'Nature of Artifice' and 'The Blackest Mantra'.
Formed in 2018 by Matthew McIntosh (guitar and vocals) and Beth Narducci (bass guitar), the Brooklyn-based duo emerged on the burgeoning dark music scene with a series of self-released offerings that garnered attention that led to their 2021 album 'Another Kind of Midnight', a mournful yet triumphant collection exploring the heart of a world amidst a devastating pandemic and torn by moral tribalism. Growing up in a family of avid music lovers and her mother being a professional opera single, McIntosh arrived at this genre of music after ample explorations in the Punk, Death Rock and Hardcore scenes, finally forging the duo's trademark sound with Narducci, whose background is more connected with Alternative Rock and Industrial music, as well as professionally supporting fellow musicians in the A&R field.
The 'Lost Hymns' album is out now, available from fine digital outlets, including Apple Music, Spotify, Amazon and Bandcamp . Following these dates with THE SISTERS OF MERCY, A CLOUD OF RAVENS will share more North American dates with CLAN OF XYMOX AND CURSE MACKEY in late May and June.
Album details

Lyrics and music by Matthew McIntosh
Matthew McIntosh - guitar, vocals, synths, drum programming
Beth Narducci - bass guitar
Recorded by Matthew McIntosh
Produced and mixed by Matthew McIntosh and Beth Narducci
Mastered by Jason Corbett at Jacknife Sound
Tour Dates

May 19 Portland, OR - Crystal Ballroom *
May 21 Seattle, WA - The Moore Theater *
May 23 Los Angeles, CA - The Hollywood Paladium *
May 24 Tempe, AZ - The Marquee Theatre *
May 26 Houston, TX - The Bayou Music Center *
May 27 Austin, TX - The Moody Theater *
May 29 St. Louis, MO - The Pageant *
May 31 San Antonio, TX – Paper Tiger **
June 01 Houston, TX – Numbers Night Club **
June 02 Austin, TX – Elysium Austin **
June 03 Dallas, TX – Granada Theater **
June 05 Albuquerque, NM – Launchpad **
June 06 Denver, CO – Oriental Theater **
June 07 Salt Lake City, UT – Metro Music Hall **
June 09 Seattle, WA – El Corazon **
June 10 Vancouver, BC – Rickshaw Theatre **
June 11 Portland, OR – Star Theater **
June 13 San Francisco, CA – August Hall **
June 14 Costa Mesa, CA – The Wayfarer **
June 15 San Diego, CA – Brick By Brick **
June 16 Los Angeles, CA – Regent Theater DTLA **
July 21 Meschede, Germany - Live Am See *
* Tour dates with THE SISTERS OF MERCY
** Tour dates with CLAN OF XYMOX & CURSE MACKEY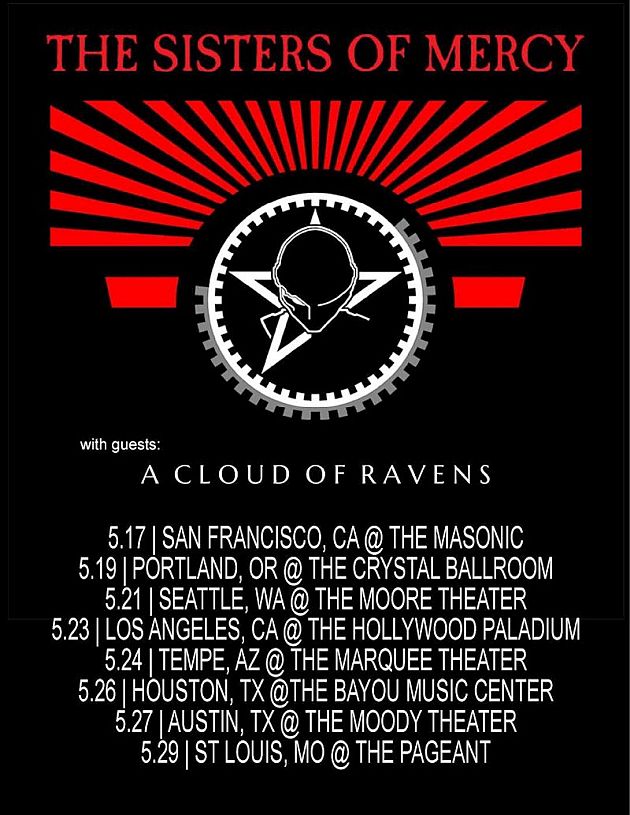 Links

https://www.facebook.com/acloudofravens
https://acloudofravens.bandcamp.com/
https://twitter.com/acloudofravens