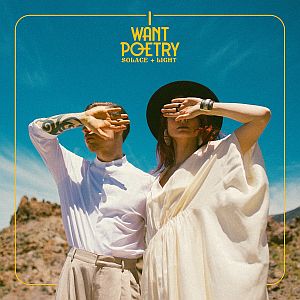 Artist: I Want Poetry
Title: Solace + Light
Release: 26th May 2023
New Video Clip "Light" out 6th June 2023
Label: recordJet
Behind the name I WANT POETRY are singer/ songwriter Tine von Bergen and pianist/ composer Till Moritz Moll. With its powerful signature mix of atmospheric dream pop, mental cinematic soundscapes and ethereal, floating vocals, the duo, founded in 2018, quickly developed from an insider tip to a fixture within the German indietronica scene. I WANT POETRY invite their fans to atmospheric thought trips between the sound worlds on their tracks.
Last year they caused a sensation with their debut album 'Human Touch'. "... and above all lies the intoxicating trendlessness of one's own style; a fine elegance that one knows from really great pop connoisseurs like Tears For Fears or Woodkid", writes the Freie Presse.
On their new album 'Solace + Light', I WANT POETRY combine existential themes such as farewell and new beginnings, grief and consolation, retrospect and confidence into a total work of art with which the duo impressively cements its status as one of the most exciting bands in temporary pop music. It is an eternal interplay of warm nostalgia, an undercooled elegance and a light-flooded glimmer of hope that runs like a red thread through the new songs.
Life is change, and every farewell allows something new to emerge. What are we leaving behind? What do we take with us? Where do we draw hope and the strength to move on? In the noise and roar that surrounds us every day, we find peace and encouragement when we look and listen. In the swaying of the trees. In the flow of the water. in a song.
They work together with internationally renowned acts and producers such as Kieron Menzies (Lana del Rey), Roy Kerr aka MyRiot (London Grammar, Aurora), Rob Rox (Banks) and Michael Vajna (Malky). They have already been on tour in several European countries and last year they were guests at international festivals such as the Future Echoes in Norway and the SPIKE Festival in Bulgaria.
For their new album 'Solace + Light', I WANT POETRY received awards at the Pop Music Competition in Saxony and were nominated for the European Songwriting Awards. It was released on May 26th.
"A great pop design that creates its own references." Beat Magazine on 'Human Touch', 2020
Source: Press Release