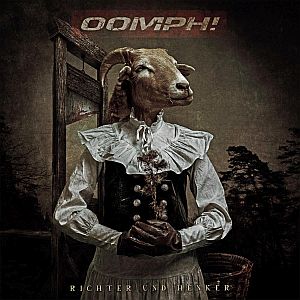 The new era of OOMPH! Band announces new singer DER SCHULZ joining forces with CR4P and FLUX! New album, 'Richter und Henker', to be Released on September 8, 2023. First single and video with to be Released on July 11, 2023
Fans have eagerly waited for what seems like an eternity, but now, the time has finally come to unveil the new singer of OOMPH! Founding members CR4P and FLUX took all the time they needed to find their fitting third band member, and DER SCHULZ is just that person - combining everything the band has always been known for. From day one, the band searched for a third member who would not just act as a new singer, but who would embody each aspect and process of the band. With DER SCHULZ (known from the band UNZUCHT), who was involved in the creative aspects and songwriting process on the new album, the band successfully fulfilled their first lineup change in their 34 years of existence.
Today, the band is also thrilled to announce their first studio album featuring the new line-up. Kickstarting the new era of OOMPH!, 'Richter und Henker' (Judge & Executioner) will be released on September 8, 2023 via Napalm Records. The 14th studio album from the legendary Neue Deutsche Härte band, who have influenced the entire genre in their time, was once again produced and recorded by the band themselves and combines all of their beloved, established trademarks while strongly looking forward to the future. The first new track and video is set to be released on July 11, 2023.
CR4P and FLUX about the band's new singer: "DER SCHULZ was always our first choice. Since we have known and appreciated each other for a long time, he was the first singer we approached. Of course, we also met with many other promising applicants in our studio and tried out the collaboration. In the end, DER SCHULZ convinced us because he manages to revive the feeling of the old OOMPH! songs and we harmonize extremely well on a human and creative level. He is a strong songwriter and lyricist and has the exact charisma, presence and character we were looking for. We had the right feeling all the way from the start!"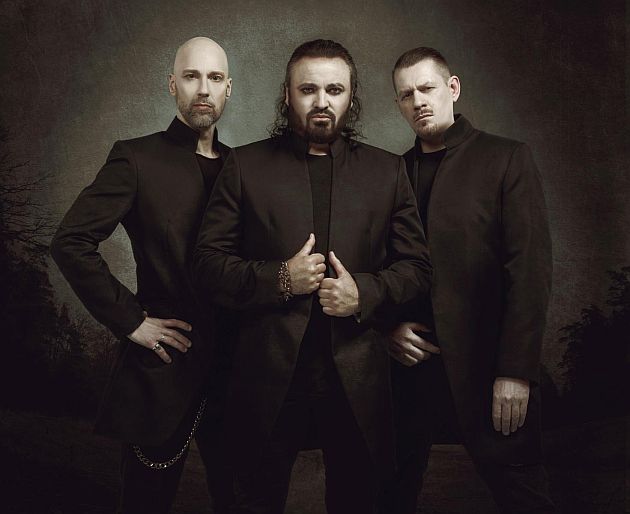 Pre-Order 'Richter und Henker': https://napalmrecords.com/oomph
OOMPH! on the new album: "Working together in this new constellation has spurred our creativity in the studio to the extreme. There will be some nice musical developments and surprises on the new album, 'Richter und Henker', without neglecting our typical OOMPH! constants. Even our usual "test listeners" say the album sounds unmistakably like OOMPH! We can't wait to finally present the songs to you and play them live on tour!"
Tracklist

01. Wem die Stunde Schlägt
02. Richter und Henker
03. Soll das Liebe Sein?
04. Nur Ein Mensch
05. Schrei nur Schrei
06. Nichts wird mehr Gut
07. Sag Jetzt Einfach Nichts
08. Es ist Nichts, Wie es Scheint
09. Wo die Angst Gewinnt
10. All die Jahre
11. Wut feat. Joachim Witt
12. Ein Kleines Bisschen Glück
'Richter und Henker' will be available in the following formats

- Deluxe Box, including 1 CD 6 pages Digisleeve, Hangman Block, 2 pencils, socks, tote bag, A6 photo card (strictly limited to 300 copies worldwide) – Napalm Records Store exclusive
- 2 LP Die Hard Gatefold Marbled Transparent Red/Black Vinyl incl slipmat, 12 inch booklet and record butler (strictly limited to 200 copies worldwide) – Napalm Records Store exclusive
- 2 LP Gatefold Gold Vinyl (strictly limited to 1000 copies) – GSA Retail exclusive
- 2 LP Gatefold Black Vinyl
- 1 CD 6 pages Digisleeve
- Digital Album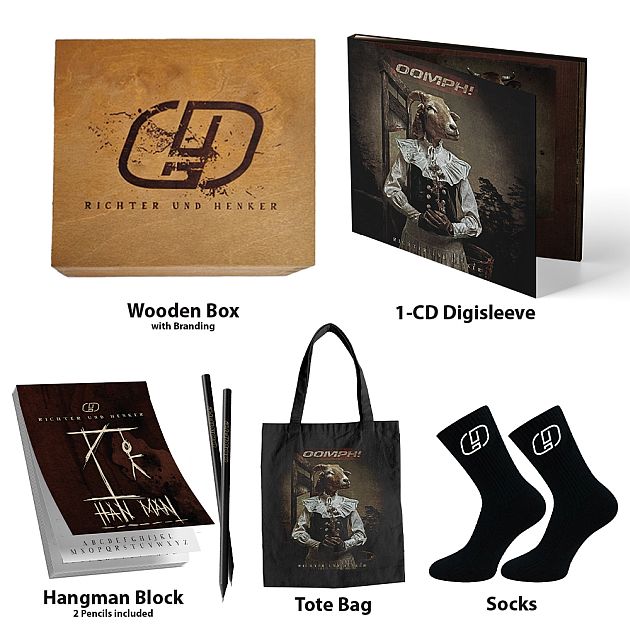 'Richter und Henker' clearly proves that OOMPH! return stronger than before with their new line-up, charging straight forward! Album opener 'Wem Die Stunde Schlägt' (For Whom The Bell Tolls) makes an immediate statement, propelled by a hefty dose of industrial metal. Title track 'Richter und Henker' captivates the listener with a mixture of hooky guitars and chanting vocals, while criticizing ignorant social movements. New wave influences are present on heavy and groovy anti-war anthem 'Nur Ein Mensch' (Only A Human) - a future hit and strong sign against warmongering and empty slogans that force hatred and war. On 'Wut' (Anger), OOMPH! is supported by none other than genre idol Joachim Witt.
Since their formation in 1989, OOMPH! has emerged as a highly influential band that has even inspired later Neue Deutsche Härte giants. With 'Richter und Henker', the Neue Deutsche Härte masters prove that they remain a leading force in the scene!
OOMPH! Live 2023 w/ Böse Fuchs & Sly

02 November 23 DE – Hanover / Capitol
03 November 23 DE – Hamburg / Markthalle
04 November 23 DE – Dresden / Tante Ju
05 November 23 DE – Berlin / Huxley's Neue Welt
07 November 23 PL – Poznan / Tama
08 November 23 CZ – Prague / Meet Factory
09 November 23 AT – Vienna / Simm City
10 November 23 DE – Munich / Backstage Werk
12 November 23 DE – Bochum / Zeche
13 November 23 DE – Frankfurt / Batschkapp
14 November 23 DE – Ludwigsburg / Scala
16 November 23 FR – Paris / La Trabendo
17 November 23 FR – Lyon / Marché Gare
18 November 23 FR – Strasbourg / La Laiterie
19 November 23 CH – Solothurn / Kofmehl
21 November 23 DE – Cologne / Live Music Hall
22 November 23 NL – Arnhem / Luxor
23 November 23 DE – Onsabrück / Hydepark
24 November 23 DE – Rostock / Mau Club
Source: Press Release / photo credit: Heilemania